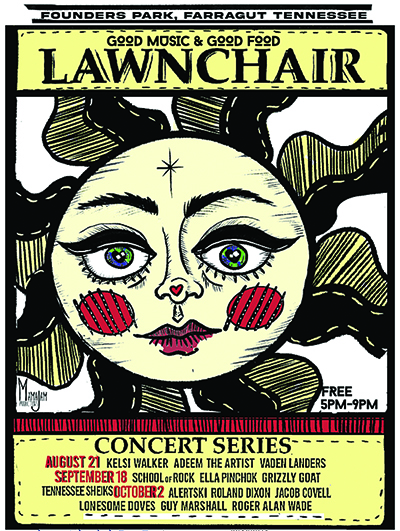 After a year's hiatus due to COVID-19, the ever-popular LawnChair Concert Series is back this month, kicking off Saturday, Aug. 21, in Founder's Park at Campbell Station.

The free, family-centric event will feature Adeem the Artist, Kelsi Walker and Vaden Landers for the first of what will be three LawnChair events in the coming months. Food vendors will be on site beginning at 5 p.m., and music will begin at 5:30 p.m.

"Guests are welcome to bring picnics, leashed pets and everyone they know," said Shandy Dixon of presenting organizer Mamajam Productions, which she operates with Amy Boling. "We encourage walking from nearby neighborhoods and parking at the Town Community Center.

"The purpose of the LawnChair Concert Series has always been to bring people together through music," Dixon added. "So, we really struggled with the decision of returning to the lawn in 2021 and how we could be together safely. The series is not for profit and we rely on artists, volunteers and sponsors to offer time and energy to bring the event to life.

"With all of the uncertainty it's hard to ask folks to make that commitment.  The cool thing was, these folks began reaching out to us and asking 'When are we on?' and 'What do you need?' and that really reminded us of the purpose."

All events will follow CDC guidelines, Dixon said, adding, "We can still bring people together, just not quite so close together. Hopefully, they won't change that much between now and then."

The next LawnChair Concert is set for Saturday, Sept. 18 and will feature Farragut's own Ella Pinchok, West Knoxville School of Rock and Grizzly Goat. The final series, Saturday, Oct. 2, will feature Lonesome Doves, Guy Marshall and Roger Alan Wade.

For more information, visit The LawnChair Concert Series on Facebook and Instagram, or e-mail mamajam34@gmail.com

Presenting sponsor is MLILY, with additional support offered by Town of Farragut, First Baptist Concord, Knoxville TVA Employee's Credit Union, Keller Williams Signature Real Estate, Southern Home Group, Master Services. SOS Audio Events, Beaty Chevrolet, ETP, TDS and Children's Dentistry of Knoxville.

Dixon said she wanted to specifically thank 2020 sponsors First Baptist Concord, Tennessee Valley Federal Credit Union, Fisher Russell Law Firm and MLILY.

"Every one of them supported us in our decision to cancel 2020, and were all so patient in allowing us to work out the details of 2021," she said.