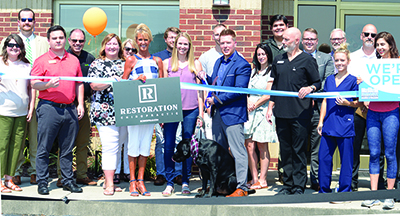 Restoration Chiropractic celebrated its grand opening with a ribbon cutting, sponsored by Farragut West Knox Chamber of Commerce, in their new office,120 Capital Drive Suite 103 near Farragut, Wednesday, July 28.

"Wouldn't it be good to stop (pain) in its tracks before it gets started?" FWKCC president/CEO Julie Blaylock asked, then replied, "That would be a miracle, wouldn't it?"

Dr. Trent Hippard, doctor of chiropractic who heads up the practice, describes Restoration Chiropractic as a "non-traditional chiropractic office."

"It's not that we're better than a traditional office," he said. "It's just that our focus is completely different."

While many traditional chiropractic offices focus on symptom relief or "collateral damage focus," he explained, "We are looking at the structure of the spine, if there are any shifts there and how that's impacting the person's health.

"Through our neuro-structural restoration process, we first sit down with them in a consultation to see if we can help them. If an examination is warranted, we move forward with testing (to see) if there is a potential core problem" and narrow in on that problem with the spinal column and underlying nervous system.

Hippard spoke of "strategies to help, not recreate, that problem they are coming to us to get help for."

Opening his practice the end of April, Hippard recently joined the Chamber. He has been a chiropractor for 10 years.

He and his wife, Amy, relocated to Tennessee from Northern Illinois in December 2020. Amy, who also is a chiropractor, works at an office in northeast Knoxville.

To book an appointment, call 865-474-1479, visit by social media or www.rcknoxville.com .

Restoration Chiropractic is open from 10 a.m. to 1 p.m. and 3 to 6 p.m., Monday, Tuesday and Thursday.