Concord Hills has four 1st-places, finishes 8th; Sugarwood 10th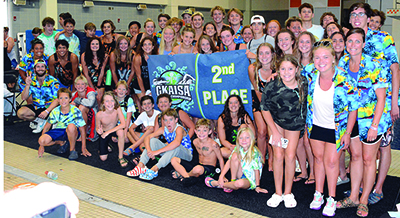 KNOXVILLE — Once again holding steady right behind super-power Knoxville Racquet Club, the Village Green Gators finished second, this year among a 31-team field, during the three-day Greater Knoxville Area Interclub Swimming Association "City Meet" Thursday through Saturday, July 29-31, in Allan Jones Aquatic Center on the UT campus.

While the Gators won seven events, the Fox Den Country Club Red Foxes — League 2 regular season champs — claimed fourth place at City Meet, also capturing seven individual or relay first-place awards.

Concord Hills Piranhas, eighth-place overall, claimed four event crowns, while the Sugarwood Stingrays, 10th overall, won the Boys 11-12 50-yard breaststroke thanks to Sam Steger's time of 36.94.

Leading the way for Village Green included Bo Gary, champ of the Boys 8-Under 25-freestyle (15.54) while also winning the 25-backstroke (20.22) and swimming on two relays champs: 100-medley with Cooper Owen, Grayson Clement and Gideon Jessee (1:22.92), and the 100-free with Grayson, Gideon and Rex Wiseman (1:09.38).

Other Gator champs were Liam Finley in the Boys 9-10 25-backstroke (18:21); Kendall Hudgens in the Girls 13-14 50-backstroke (28.12); and Grace LaCharite in Girls 15-and-Up 50-breaststroke (30.97).

Top Red Foxes included the Girls 8-and-Under 100-medley relay of Taylor Clarke, Josie Pacelli, Lauren Hackett and Bankston Clarke (1:19.99).

Taylor, Josie and Lauren were joined by Eloise Thomson to capture top honors in the Girls 8-and-Under 100-free (1:12.09). Lauren also won the 8-and-Under 25-fly (16.39).

Fox Den's Boys 9-10 100-medley relay also was champion: William Scott, Ryan Nettles, Alec Bentley and Stone Stinson (1:09.68); the Foxes' Boys 13-14 200-medley relay also was No. 1 with Kolby Leach, Evan King, Noah Roettger and Harrison Kilpatrick (1:50.10). The same foursome repeated this feat in the 200-free (1:37.38). Ryan Nettles captured the Boys 9-10 25-breaststroke (18:07).

Concord Hills' Collins Rector was a double champ, first winning the Girls 8-and-Under 25-free (14.95), and later grabbing first in the 50-free (35.11).

Piranha Noah Jenkins claimed No. 1 in Boys 9-10 25 butterfly (14.90), while Aydan Skelton finished on top in the Girls 13-14 50-fly (27.05).