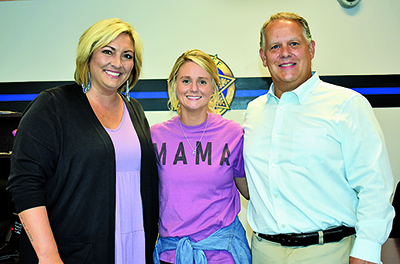 A Farragut credit union showered love and support on the widow of a Knox County officer last week.

Danielle Laycock, widow of Sgt. Tim Laycock who passed away Thursday, July 22, received a check from Kasi Lawson of Knoxville TVA Employee's Credit Union in Turkey Creek Friday, Aug. 6, at KCSO's West Precinct along Parkside Drive.

Sgt. Laycock, who died unexpectedly at the family's Corryton home while being treated for pneumonia, had been with KCSO for 34 years, with at least a decade of that time being spent patrolling in and around Farragut.

"We do a lot for our officers, and we like to take care of them and do what we can because they sure do take care of us," said Lawson, who was alerted to the need by Capt. Brad Hall, who worked with Tim for more than a decade.

"We do a lot with Brad, and try to love on our officers because they do so much for us," she added.

"I just want you to know how grateful we are for the donation," Danielle Laycock said.

"Tim was a great guy, and did a lot for Farragut," said Hall, who noted Sgt. Laycock worked in the immediate area "for at least 10 years, maybe even closer to between 12 and 15."

Sgt. Laycock was later assigned to oversee the Knox County School district.

"He never changed. He had a great laugh, and loved to make others laugh, too," Hall added.

Danielle, who was married to Sgt. Laycock just shy of five years, smiled through tears.

"I know he was laughing at me this morning, I could hear him," she said. "(KCSO) is coming to pick up his gun, and I kept trying to get it out of the holster, but I never could. I just gave up and decided they will have to take care of that when they come."

Sgt. Laycock, 56, also is survived by three children and several grandchildren.