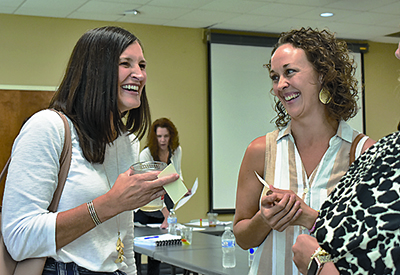 Helping overcome negativity in the coming year is one area where Town of Farragut's Education Relations Committee can assist school administrators — a suggestion that came from a first-ever roundtable discussion Wednesday, Aug. 4, at Town Hall.

ERC members and Farragut public and private school administrators — along with Susan Horn, Knox County Board of Education chair and 5th District representative, and Town Vice Mayor Louise Povlin — met together for lunch and open discussion as ERC members asked what assistance they could offer.

"The biggest thing I would ask for is encouragement and positivity," Farragut Middle School principal Wes Edmonds said. "There is a lot of negativity — especially on social media — and we need help dispelling untruths and spread positive messages."

"We have to be the positive voices in the community," said ERC member Mary Nussbaum, the ERC liaison for St. John Neumann Catholic School.

"Our biggest challenge this year is one no one can help with, and that is that we are bursting at the seams," said Farragut High School principal Dr. John Bartlett, who later reported 2,125 FHS students were enrolled for fall semester as of last week. "Where are we going to stack the kids and how can we manage the numbers?"

It is a problem echoed by Edmonds, who said FMS has 1,436 students this school year. New Farragut Primary School principal Lynn White said her school had 976, while Farragut Intermediate School assistant principal Amy Schumpert noted a 1,120 student enrollment.

Horn said she and the School Board "were well aware of the overcrowding issues" plaguing Farragut. KCS recently approved $5 million for land acquisition in the western portion of Farragut/West Knoxville with plans to build an elementary school to help with this issue.

Also attending last week's meeting were FPS vice principal Dr. Anne Riley, Concord Christian School head of school Don Snider and St. John Neumann Elementary principal Bill Derbyshire, as well as ERC committee Chair Wendy Stiles and members Beth Duncan (FMS PTO president and FHS PTSO co-president), Mary Cook (president, FHS Education Foundation), Mandy Kincaid (FPS teacher), Janet Morgan (FHS PTSO co-president) and FHS youth representatives Ocean Edwards and Hannah Brennen.

Guests included FIS PTA president Stephanie Thompson, FPS PTA president Megan Wood and Michelle Morrow.

Each representative was paired with his/her respective school administrator.

Povlin, who has served on the ERC committee for three years, has spent that time updating ERC's membership and charter. She's recently been working on committee charter amendments, which would add non-voting youth representatives from private schools to the committee.

"We needed people on this committee who were in our schools at least weekly," she said, referring to the newly added PTO, PTA and teacher representatives. "Our schools are ... one of the biggest reasons people move here."

New ERC officers were elected for the coming year: Kincaid will serve as chair, Morgan as vice-chair and Nussbaum as secretary.