New bike bizes opened by cycling legend LeMond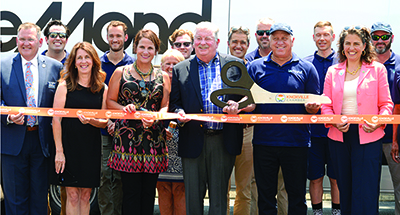 Cycling legend Greg LeMond, Tour de France three-time champ, recently opened his new companies, LeMond Bicycles and LeMond Carbon, in West Knox County — while launching his new line of e-bikes — with a ribbon cutting at his manufacturing facility, 10351 Deerborn Lane off Dutchtown Road, Wednesday, July 28.

Lt. Gov. Randy McNally plus Knox County and City of Knoxville officials joined the international ex-superstar.

Starting with about 30 employees, LeMond anticipates hundreds will work for his company within the next few years.

"In six or seven years, my goal is to be the No. 1 company in the world," he said. "I think we can do that because we have a tremendous competitive advantage in terms of cost.

"Everything is made by hand," he added.

With an influx of new residents in the West Knox County area, "I do believe that cycling can bring a lot of life," he said. "Cycling is a growing sport. It will continue to grow."

"We're doing the impossible," Dean Henderson, LeMond's CEO, said. "We started a company during the pandemic.

"A year ago, we started working with our suppliers on engineering; and six months later, we brought two e-bikes to market," he added. "It's a tremendous effort by the entire team, and all of our suppliers, the people here in Knoxville and all of the support we have around the city has been fantastic.

"This is the beginning of a great Knoxville story … and it's going to grow. We're really happy to be here. "We've got a lot coming down the road."

LeMond initially entered the bicycle business in 1986 after his first Tour de France win — and the business continued to grow.

The company "is a local manufacturer and assembler of world-class e-bikes, combining LeMond's first-hand experience and expertise in carbon fiber with his in-depth knowledge of cycling ergonomics," a press release stated.

"My goal was to have the best riding equipment," he said.

"I raced the Tour on a carbon fiber bike," LeMond recalled. "I knew the importance of carbon fiber. Weight is everything in cycling, so I decided I was going to start my company, not as a commercial endeavor at that point but just so I could choose the best equipment."

In his research, to automate the manufacturing process, LeMond heard about Oak Ridge National Laboratory Manufacturing Display Facility's 3D printing, which he observed would be good for tool making.

"We're working with Oak Ridge on making tools here," he added. "We're just beginning that relationship."

LeMond also met an ORNL team from its carbon fiber facility that now is part of his team.

"(The team) had invented a new process of making carbon fiber at 50 percent lower cost, which is the first time in 60 years in the carbon fiber industry," he said.

"The carbon fiber industry is actually a relatively small industry right now. It's focused mainly on aerospace and aviation; but with a lower-cost carbon fiber, it could be a hundred of times greater than that," LeMond added.

LeMond said the goal initially was to launch the carbon fiber and bicycle companies so one would cash flow the other, but instead focused on carbon fiber first. He also obtained technology that would speed up manufacturing.

However, "It's not just the bikes," he said. "Our goal is to bring carbon fiber manufacturing here at the lowest cost in the world.

"Knoxville has the opportunity to create a carbon fiber valley, like Silicone Valley," LeMond added. "We're actually making carbon fiber parts right here in Tennessee for our e-bikes."

After establishing the carbon fiber business, he then focused his attention on manufacturing bicycles.