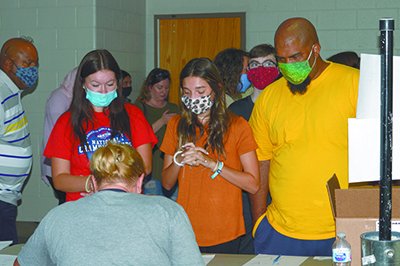 While nerves were an understandable reaction from at least some Hardin Valley Academy incoming freshmen, HVA's Valleypalooza 2021-22 was a huge success Wednesday, Aug. 4, according to principal Dr. Rob Speas.

"We had about 1,200 students attend," he said about the students returning to school to have school photos made and sign up for extracurricular activities.

Isaiah Correll, who comes to HVA from Cedar Bluff Middle, admitted he was one of the nervous ones. "Just seeing new people and having to get used to a new environment," he said.

Freshmen Jamila Avu Hatav and Aidan Blume both said they were nervous, but already are planning on joining clubs such as drama.

"I love acting," Avu Hatav said. "I was in drama club in the sixth grade. I really enjoyed it."

On the other hand, "I'm just chilling. I'm not really nervous," said Makayla Beck, also coming from CBMS.

Saying she was considering joining a youth Christian club, "I'm excited to meet new people," Beck added.

Rylie McClaugherty, who came from Hardin Valley Middle School, said she is excited about starting high school — but her friend, Makenlee Cox, said she has mixed feelings.

"I'm going to be in the same school as my brother," Cox added. "He doesn't want to have anything to do with me, but he has to drive me to school."

"My brother can't wait to drive me to school," McClaugherty said.

While Cox wants to delve into theater and math classes, McClaugherty said she is looking forward to business and marketing, as well as track and field.

Michelle Craig, mother of freshman Caleb Craig, said, "we're actually new. We just moved here this summer from South Carolina. He will be here with his sister, Rachel."

Caleb said he is both nervous and excited. "Starting high school makes me feel old," he said, but added that being the son of a military dad means he thrives in a structured environment. He is looking forward to taking computer science classes, joining a Bible study club and a cyber security team.

Assistant principal Kellie Ivens and her team "did a great job of organizing the evening," Speas said.