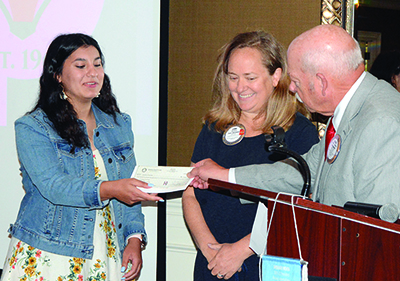 With her proud father in attendance, Sara Meghabghab received a special honor from The Rotary Club of Farragut that will help pay for college expenses in her journey to become a pediatrician.

Meghabghab, a 2021 Hardin Valley Academy graduate and one of 13 members of that school's 2-year-old Interact Club through 2020-21, received RCF's annual $1,250 scholarship — which goes to a high-performing HVA Interact candidate — during Farragut Rotary's regular noon Wednesday meeting July 28 in Fox Den Country Club's main ballroom.

Leah Berry, RCF sponsor for HVA Interact, said the scholarship "is based on community service, grades and participation in Interact.

"She's participated in every single event that Interact and (RCF) have had over the past two years," Berry added about Meghabghab. "She's been at every COVID vaccination — and I'm talking hours, eight-hour shifts — volunteering at Summit (Medical).

"She's just dedicated and smart and just a great representative of her school."

"I just think it's so important to get involved with the community," said Meghabghab, who finished ranked in the top 10 of her class academically with a 4.4 grade-point average and 33 ACT score. "Little actions can make a huge difference.

"There's lots of events in a community that go overlooked because people don't talk about them," she added. "Helping out is just really important to me.

"I feel like everyone should at least know about it and get involved — and get their friends involved."

She will attend the University of Tennessee, Knoxville, and major in medical laboratory science.

As for why she wants to become a pediatrician, Meghabghab said, "I'm currently a summer day counselor at the YMCA of Knoxville; I've been working with kids for a year now. I just really love working with kids."

While also earning a place in "the Chancellor's Honors Program at UTK," Meghabghab took several Advanced Placement courses at HVA in preparation for college.

"And I've had perfect attendance (at HVA)," she added.

About the help of Berry and math teacher Jane Sarphie, who oversees HVA Interact, "They encourage us to go out in the community," Meghabghab said.

"With Leah, we have a group chat where she talks about events we can go to like Flu Shot Saturday, the COVID-19 clinic, and like the Polio project," she added. "And during our meetings we talk about what we can do to, like, 'fundraise for this,' or like go out and serve."

HVA students are encouraged to join the school's Interact Club by contacting Sarphie.