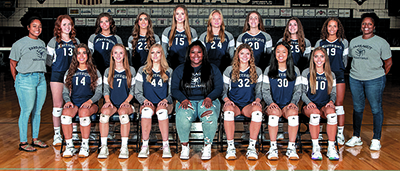 Especially solid at the net and featuring five returning starters in 2021, Jo Madden's Farragut High School Lady Admirals volleyball team looks to take one more step and reach the Class AAA state tournament.

"Our biggest strength this season, I think, is our front line," said Madden, in her second year as Lady Admirals skipper after serving four years as an FHS assistant coach.

In fact, "It's going to be hard to get a ball past our front line," added the coach, whose team is coming off a 15-11 season in 2020, which ended with a sectional loss at Johnson City Science Hill.

Ellie Ackermann, senior middle hitter, earned First-Team All-District honors last season.

"Ellie is our heavy hitter in the middle, and she can hit all angles," Madden said. "She's aggressive, and she's going to be our go-to person this season."

Senior Meg Frank, who earned Blocker of the Year honors in District 3-AAA last season, teams up with Ackermann as the other key middle hitter.

Another returning starter, senior Kate Priest, "is my No. 1 outside hitter. … She packs a lot of power," Madden said about the Honorable Mention All-District standout in 2020. "She has a big vertical (elevation) and can get over any block. … And she's one of our top defensive players."

Ackermann and Priest also are on the Junior Volleyball Association "Watch List" among the Class of 2022, the coach said.

Kennedy Holley, a sophomore who earned All-Region 2-AAA tourney honors as a freshman, "is my right-side (hitter)," Madden said. "She played all around for us last year. And she's a lefty, so when she comes in it's actually hard for teams to stop her. … And she's also one of our top defensive players, and can play libero. She's pretty amazing."

Senior Ashley Hilbelink "is my setter."

Yet another right-side hitter being counted on is senior Kelly Su.

Among players expected to emerge in 2021 is junior Mackenzie "Mac" Turner, who the coach said "will dominate on our outside this season."

Madden is looking for players to step up as libero and as defensive specialists — two areas hit hard by graduation.

"It's a little concerning, but with the players that we have that are playing all the way around, they're just as strong defensively," the coach added.

Also looking to contribute are senior Livingston Holley, juniors Madi Neeley and Mia Phielipp, sophomores Avery Mandl and Maloria Moore and freshmen Emily Carpenter and Tori McNair.

KCHS Lady Irish

A program of excellence the past six years is looking to clear one final hurdle, as Knoxville Catholic volleyball did in 2016 when winning a state championship.

Head coach Brent Carter's team is coming off a 22-9 season in 2020 where his Lady Irish lost in the Division II-AA state semifinals to Baylor — the first time in six seasons at the helm where KCHS hasn't earned a state title match appearance.

"We're a really good program that does some nice things, and all-in-all I like our (state championship) chances every year," said Carter, in his seventh season as Catholic head coach.

However, the coach said what's needed is developing more "grit and determination to finish this thing out the right way" and win state championships. "That's what we're working on in the pre-season. ... The kids are responding well."

The 2021 Lady Irish return all but one starter. "This year we've got a more mature crew coming back … and we have a lot of depth," Carter said. "We should be very competitive."

Moreover, "I expect this team to be way more physical than probably any team I've ever had at Catholic."

Individually, "We have three very good setters in the program," the coach said of All-Region junior Devyn Dunn, "who has been running our offense for the last two years," along with senior Emma Meyer "who is really, really good," and junior transfer Blair Cherry, "who will see significant time."

On the outside front are senior All-Region honoree Grainne McGrath, a four-year starter who's a Furman commitment.

Sophomore All-Region selection Bellamy Parker "played all six rotations as a freshman last year; one of the top two passers on the team and has a really big arm," Carter said.

In the middle is freshman Alex Mendillo, along with junior transfer Makenlee Piety and junior Caitlyn Cress.

Senior Morgan Phillips "is a 6-(foot)-2 right-side hitter," Carter added.

Meyer and "really special" freshman Alyssa Adams are in competition for starting libero.

Other Lady Irish looking to contribute are senior Marina Azevedo, juniors Ella Jabaley and Isabella Raman, sophomore Lauren Prince and freshman Madeline Phillips.

CCS Lady Lions

With plenty of experience returning, Concord Christian School head coach Carmen Hochevar is looking to lead her program back into state title contention in Division II-A, where the Lady Lions finished as state runner-up in 2018 and 2019.

"We might be a team that will rock some boats," said Hochevar, in her ninth season as CCS head coach.

"I think we're going to be scrappy defensively," she added. "And we've had a huge influx of new players coming in.

"Of course, we have the strength with Annabelle (Sulish, standout senior outside hitter). And we have a large number of seniors."

Other key players are sophomore libero Anna Birling, senior middle hitter Juliana Kuhn, junior outside hitter Katie Cooper, junior outside hitter Mady Sulish, senior middle hitter Anna Komistek and Sydney Petersen, libero/defensive specialist.

Cooper "has come on very strong this year," the coach said, as the junior has overcome "two knee surgeries."

Birling "is doing a tremendous job; and I'm really pleased with how Juliana Kuhn has stepped into a new position and embraced it — and that's tough to do. Sydney Peterson is showing a lot of fire and determination."

Among her new players is freshman setter Lexi Schollart. "I see good improvement with her," Hochevar said.

Sister transfers from Washington (state) are setter Lily Richards and senior defensive specialist Mabrie Richards.

Others to watch include eighth-grade libero Katelyn Stooksbury.