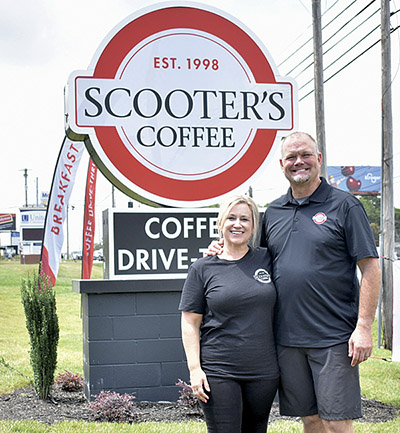 Wichita, Kansas natives Stacey and Greg Gering loved Scooters Coffee so much they brought the franchise to West Knox County.

These Choto residents opened their new drive-through coffee shop July 5 at 10512 Kingston Pike, just east of Lovell Road. Farragut West Knox Chamber of Commerce is hosting a ribbon cutting for the new business starting at 11 a.m., Monday, Aug. 23.

Traffic has been steady ever since Scooter's opened.

"We feel very supported by the community and are getting to know our 'regulars,'" Stacey said. "To us, it is all about establishing relationships. You don't get that everywhere."

"Customer service is a huge focus for us," said Greg, who also works as a paramedic at University of Tennessee Medical Center in Knoxville.

The company's three priorities are "Amazing people, Amazing Drinks and Amazingly Fast Customer Service," as listed on the staff T-shirts.

"We put people first," Stacey said. "It is who we are, and how we take care of our employees and our customers, and it really shows. Our employees are glad to be here, and so are our customers.

"We had one college student customer who went home for a few weeks, and her first stop back in town was to see us," she added. "We love our business and are really excited about it. It has really been a lot of fun."

Scooter's began as a franchise in Bellvue, Nebraska, in 1998, and has spread to more than 300 locations nationwide.

Most are like the West Knoxville location, offering drive-through service only, but its personalized service and array of drinks are what Stacey and Greg said set it apart from other coffee shops.

Scooter's Coffee has dozens of flavors and offers them hot, cold or blended, along with espresso shots, smoothies and breakfast food items. Its signature drink is "Carmelicious," and every day offers a "flavor of the day" brew, including German Chocolate and "Scooter Doodle."

Fall flavors, such as pumpkin blends, soon will be added to the menu.

Their own experience planted the seeds to bring the business to Knoxville.

Scooter's was a favorite of the Gerings before they moved to Farragut in 2017, who noted as customers that "Scooter's had an amazing product," Stacey said. "We used to go there every morning, and once we moved we realized we really missed that."

Scooter's Coffee, which employs 17 workers, is open from 6 a.m. to 8 p.m., Monday through Saturday, and from 7 a.m. to 7 p.m., Sundays.

Many are high school students and fellow church members from Heart and Soul Church, which meets in Bearden High School.

"It has been a great location so far, and our entrance road will eventually lead back to more businesses, eventually curving around to connect to Huxley Road to the west."," said Greg.

The Gerings suggested customers download the Scooters App on their phones to enjoy specific perks, including free drinks on birthdays and reward points for every dollar spent.