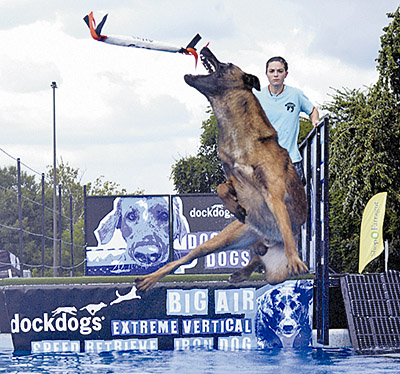 Despite a rain and lightning delay during the final round of Dog Daze V Sunday, Aug. 15, this year's national dog-jumping competition once again was a success according to Stephen Krempasky, Shop Farragut/ Farragut Business Alliance executive director.

"It's growing each year … This year's activity attracted a little over 6,500 dog lovers and enthusiasts over the 2.5 days," he said of the event, held for a third straight year in Village Green shopping center parking lot along Kingston Pike. It started Friday afternoon, Aug. 13, with a "Pooch Plunge," in which locals could bring their dogs to test the waters for free. Krempasky said 41 dogs participated in the plunge.

While the competition began Saturday, Aug. 14, Sunday's champions came from as far away as Pennsylvania and Florida, yet as close as Knoxville, Maryville and Friendsville.

"Even a hard core crowd of around 100 stayed through the final jumps after a half-an-hour lightning delay and short rain" Sunday, Krempasky said.

With more than 30 vendors on hand, "I had several individuals come up to me on Saturday, asking how they can get their business involved next year," the SF/FBA executive director said.

Competitions began Saturday and continued through Sunday.

With winners from Pennsylvania to Florida, local winners are:

• Speed retrieve —second place, Susan Armstrong of Knoxville, with chocolate Labrador Retriever, Deogie Outlaw, at 6.326 seconds; Turbo: first place Rebecca Smith of Friendsville with Rat Terrier, Pierce, at 7.241 seconds; Express, first place, Becky Jones of Knoxville with English Springer Spaniel, Freddie, at 8.648 seconds; and Leslie Cochran-Timm of Greenback with Golden Retriever, Barkley, at 8.954 seconds;

• Top Gun: first place, Jamie Dukovac of Maryville with dog, Zoltar, at 6 feet, 10 inches.