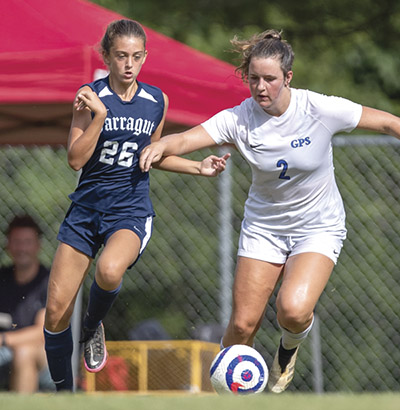 A long wait finally came to an end for the Farragut High School girls soccer team over the weekend. After their scheduled opener at Lenoir City was rained out Tuesday, Aug. 17, the Lady Ads played their season opener Saturday afternoon, Aug. 21.

And it couldn't have gone much better, as FHS notched a 2-0 victory over Chattanooga Girls Preparatory School at Farragut Soccer Stadium.

It didn't take FHS long to find the back of the Bruisers' net — 40 seconds to be exact — as Lexi Foley, a senior forward, gave Farragut a 1-0 lead.

"It's great just to get the season started," Foley said. "Our goal has been to keep possession, and we've been working really hard at that for the last couple of weeks.

"We've been working on keeping the ball in the middle of the field, and that's how we got both of our goals, by keeping the ball in our attacking third (of the field)."

The Lady Ads controlled the tempo throughout much of the first half of the game while outshooting GPS 6-3.

Farragut goalkeeper Caroline Ekern made all three saves during the opening 40 minutes of the match.

Enjoying multiple scoring chances throughout the afternoon, Farragut added a second marker in the 36th minute off the foot of Brady Livingston.

Lady Admirals' second-year head coach Kristen Lyons was pleased with her squad's effort.

"We got scoring chances," she said. "To me, it's about performance and putting everything together. We got chances and we played well against a really good, really tough team.

"I'm really happy with our bench players and the way they came in and made an impact," the coach added.

"On this team, anybody can make an impact, it's not just two or three players. This game had all the things that define who we are, what our team is."

Lyons also said she wasn't surprised to see her side dart out to an early lead.

"We've been doing that," she said. "We've been getting chances."

Overall, Ekern, a senior, made six point-blank saves to keep GPS off the scoreboard.