Sept. 9 National Flower Show set with 'Alice in Wonderland' theme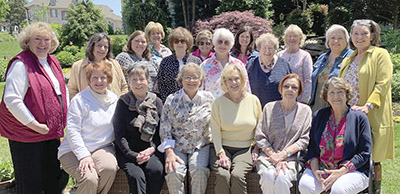 Dixie Highway Garden Club is welcoming everyone to step "into Wonderland" as it presents a National Garden Club Standard Flower Show with an Alice in Wonderland flair.

"We're all geared up to go," said Linda Ford, who is co-chairing the event with Connie Wallace.

The show, which is free and open to the public — and is handicap accessible — will take place from 1 to 5 p.m., Thursday, Sept. 9, at the home of George and Julia Shiflett, 9000 Madison Lane. Masks will be required.

"We appreciate the Shifletts for sharing their house," Ford said.

"I'm proud of (my) gardens," said Julia Shiflett, who has been a DHGC member for 40 years.

"I'm one of the youngest ones," she added. "My mother brought me in … all these seasoned women took me under their wings."

"Dixie Highway, when they do a flower show, it is so up front. It is always an awesome affair," said Rose Moseley, the show publicity chair. "All of our club members strive to make it the best show possible."

"This has been kind of a fun show," Ford said. "It's different for our club. We're really enjoying doing it."

Clubb officials say the public will enjoy looking at the educational exhibits, flower designs, botanical art, horticultural exhibits and a photography class exhibit.

In addition to Ford and Wallace, Janet Underwood and Yvonne Coulson wrote the show's schedule. "It's very intricately written," Ford said. "They have been working on it together since 2019. The time they have put in is just incredible."

This will be a juried show with 12 national federated judges from Tennessee Garden Club and National Federation Garden Club. "Flower shows are few and far between because of the pandemic," Ford said. "We are one of the few clubs that have staged a show this year."

There will be a number of classes being judged. Wallace said in horticulture alone, the club will have 50 classes.

There also will be classes for herbs; annuals (cut blooms); roses; container-grown (or potted) plants; and succulents. "You have a design division in this show," Wallace said. "Those are the floral designs ... sculptures of flowers."

Additionally, the show will feature botanical classes.

For more information, call Ford at 865-306-4853.