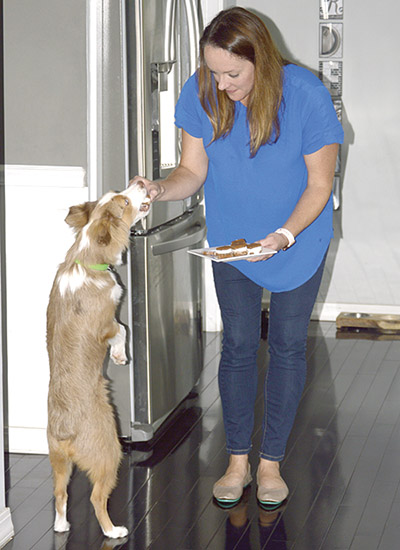 Colleen Sturdevan of Fox Den subdivision in Farragut has just launched a new home-based business, Spoiled Dog Pupcakery, baking made-to-order homemade dog treats using natural ingredients.

Since the treats have no preservatives, she noted they do not last as long as store-bought treats — "a majority of them last about four weeks to a month, maybe longer even if you freeze them.

"But I just love all the decorating things," Sturdevan added. "With the dog treats, I'm going to do dog birthday cakes. I remember my black Lab, when she was our only dog, she was invited to a friend's dog's birthday party … there's a market for it. People love their dogs and want to celebrate them, too."

The treats may be as simple as a small, bone-shaped treat, to more elaborate, decorated human-shaped ones such as s'mores, soft pretzels, mini donuts and pupcakes — cupcakes made with applesauce, flour and other ingredients.

"They're all in the base of these crunchy dog treats but they're in the shape of these people-looking foods," Sturdevan said. "You can choose whether you want frosting on them or not.

"The frosting is dog safe. It's actually made from yogurt chips that can be colored," she added.

The treats also are safe for humans, she noted.

And, Sturdevan said, "I plan on doing treats for different holidays."

She is selling them online through Etsy by visiting spoileddogpupcakery.com, which links customers to her Etsy page. She also plans to set up a booth at local events. For more information about the treats, call Sturdevan at 865-407-0665 from 9 a.m. to 5 p.m., Monday through Friday.

"When you place an order, it's going to be at least five to seven days until your order is ready to be shipped," she said.

Sturdevan also is considering having pick-up service for local customers.

How it started

The idea for the business started with her own interest in baking, and was eventually inspired by her own three dogs — all now deceased.

"I would make treats for them, just randomly, not very often," she said. "I bake cakes. I've done that for 12 years for friends and family."

While adopting Barkley — a Red Merle Australian Shepherd also welcomed into the family by her husband, Danny — Sturdevan looked on the Internet and saw a site for how to start a dog treat business.

"I started researching about it, and it sort of clicked with me," she said. "This whole course was about natural ingredients and doing things the right way."

The treats are then sent to an agricultural facility to be tested and provide a guaranteed analysis "to let (customers) know it's healthy for the dog," Sturdevan added.