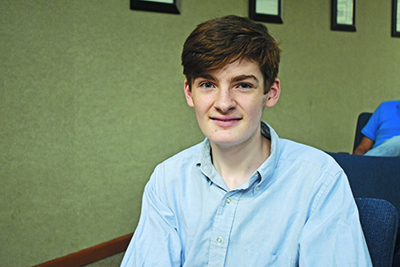 Farragut Municipal Planning Commission's newest youth member, Hank Standaert, got a quick education during his first meeting July 15.

Agenda items included site plans for new developments, discussions with business owners looking to expand and a rezoning request that saw residents arguing both for and against the issue.

"I was surprised and inspired by how passionate Farragut citizens were about their community," said Standaert, who is a senior at Knoxville Catholic High School. "It meant a lot to see a group of people come together and voice their opinions on an important change in their community. 

"It was also interesting just to see how much I had to learn. Some terms flew over my head, but I was always scribbling down notes to help myself in the future." 

Applying for the FMPC role was new for Standaert, although he does have experience on his school's Student Council.

"I have always loved the community and atmosphere here in Farragut, and I am interested in working with the government in the future," he said. "Getting involved in local government and learning how our wonderful community is maintained and developed is truly the perfect opportunity."

The son of Vanessa and Robert "Bob" Standaert, the new youth representative was born in Oak Park, Illinois, but has lived in Farragut with his family since 2005.

At KCHS, Standaert is captain of the Mock Trial team and Model UN Club and is a "Builder" in CivicsU/Civics2030 who led a service project in May 2021 that helped raise more than $1,000 for books for first-graders at a local elementary school.

After graduation, he hopes to go "straight to a four-year college … hopefully a small liberal arts school," Standaert said.