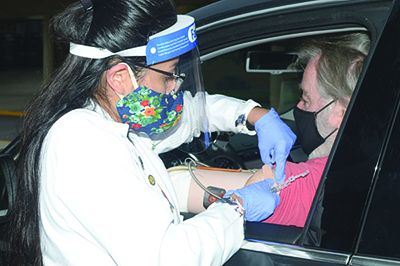 Rotary Club of Farragut again will hold its annual Free Flu Shot Saturday, this time with two locations nearby.

The drive-through inoculation event will take place starting at 8 a.m. and continuing until noon — or until the vaccines run out — Sept. 25, at Farragut High School and Hardin Valley Middle School, said past president Edward "Ed" Jones, who is coordinating this year's event, which is free and open to the public.

"Past president Ed Jones is picking up where Mark Bialik left off and will be our overall coordinator," RCF media chairman Tom King stated in the RCF newsletter.

"Flu Shot Saturday is one of our many signature events," Jones told Rotarians during an Aug. 11 club meeting in Fox Den Country Club. "We do a great job serving the community in a worthwhile cause. Last year, we had 33 people (working the event)."

Last year, the club facilitated the giving of 900 shots, administered by University of Tennessee College of Nursing students and professors. Of those, King said 365 shots were given to people 65 and older.

FHS and HVMS will be two of five Knox County locations where area Rotary Clubs are providing shots.

While there is no charge for the vaccines, people have an opportunity to donate to the News Sentinel Empty Stocking Fund, which provides food and toys to disadvantaged East Tennesseans during the holidays.

During a subsequent interview, Jones, who has been in the club since 2006, has always worked in Flu Shot Saturday, except for a few years during which he had a conflict.

"It's a great activity to give to the community," he added. "Providing flu vaccines also ties in with Rotary International's goal in eradicating polio while members can have fun at the same time.

While Jones supervises the efforts at FHS, member Bill Rice will oversee the HVMS operations.

"Dr. Charlie Barnett, who coordinates the medical part of this important event, which began in our club in 1992, says that the Free Flu Shot team wants to add a seventh site — Hardin Valley — this year," King said.

Members of the Interact clubs at Hardin Valley Academy and the Christian Academy of Knoxville will be assisting RCF members in the endeavor.