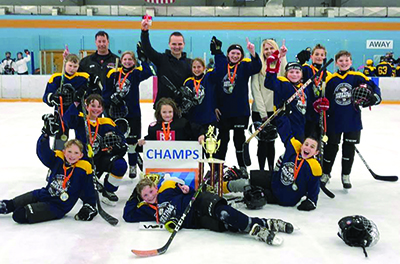 Knoxville Amateur Hockey Association is putting on a "High Performance Weekend" during the Labor Day holiday to showcase the program's Travel League talent, which will happen at Cool Sports Home of the Icearium in Farragut.

But KAHA and Cool Sports are seeking any child age 5 or older, plus teenagers — and even adults — who want to at least learn more about recreational hockey.

"We've got a 'Learn to Play' program at Cool Sports," said Mike Craigen, hockey director for Cool Sports. "You get a full set of equipment; you get six hockey practices along with eight complimentary skating lessons for a couple hundred bucks.

"... It's about as inexpensive as you'll find in any youth program," he added.

For more information, including more details, or to sign up, go to www.coolsportstn.com

Within the partnership of KAHA and Cool Sports is the goal "of making hockey available to everybody," said Rob Link, KAHA president of the Board.

With seasons year-round in each youth age category, "Right now we're anticipating a big winter season — hopefully coming back from a significant dip in numbers due to COVID," Craigen said.

"We're not sure what's going to happen" pandemic-wise, he added, but pointed out KAHA's best season under the roof at Cool Sports was just before COVID hit, in 2019, "When we had upwards of 500 youth skaters.

"I would project we're going to be between 400 and 500 youth hockey skaters this year."

Even subtracting about 100 Travel League team players, that's 300 to 400 recreation league participants — if the pandemic can be held in check.

"Additionally, we actually have a couple hundred Adult League skaters," Craigen said.

Going even further with its outreach is Sled Hockey for those unable to skate.

To speak directly about KAHA and Cool Sports, call Link at 865-207-0652 or Craigen at 865-738-7341.