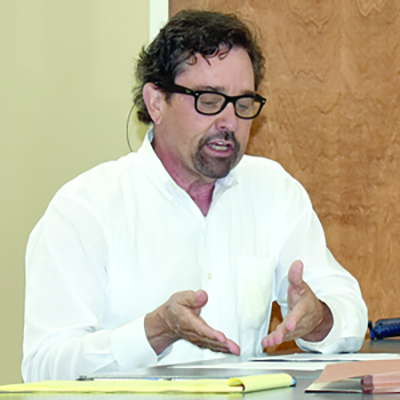 A pending lawsuit from Farragut residents Steve and Virginia "Ginny" Williams aimed at the Town of Farragut "to protect their property rights" led to a terse exchange between the developer's wife and Town Mayor Ron Williams during the Tuesday, Aug. 31, Town Staff/Developer meeting.

The Williams couple (no relation to Farragut's mayor), who are investigating what is required to subdivide their property along Evans Road into estate-sized lots, are asking for a amendment to the Town's subdivision regulations to state: "In the event that a subdivision will have ten (10) or less dwelling units on an average density of one (1) dwelling unit per 4.0 acres, then the (Farragut Municpal) Planning Commission shall not require the subdivision to (i) provide for both vehicular and pedestrian/shared-use path connectivity to abutting properties or (ii) have more than one public street vehicular access into and out of the development."

"Basically, this would prevent (FMPC) from requiring connectivity between subdivisions," said Mark Shipley, Town Community Development director.

Additionally, the couple is asking for "other changes to subdivision regulations to accommodate estate-size lot subdivisions," most of which referenced recent Board of Mayor and Aldermen variance approvals granted to the Keeney Property off Union Road, including: reduction of right-of-way to 40 feet; rural cross-section road 20 feet-wide, no curbs, open ditch drainage system; no pedestrian/shared-use path connectivity to abutting properties; no sidewalk, pedestrian/shared-use connectivity on the connection road; waiver of 10 percent open space required in association with a subdivision; and a variance from 500-foot maximum length of street (or) cul-de-sac to allow streets up to 1,000-foot length, as measured from connection to existing public street to center line of cul-de-sac or equal fire truck-approved turning design.

Steve Williams also is requesting an option to have a private gated road maintained by homeowners' association of residents on said road.

Currently, connectivity is required for all developments, but those with fewer than 30 lots may request a variance from the Planning Commission and has been granted many times. Additionally, property owners are permitted to request additional variances.

While Shipley said staff could support the first portion of the request, "there are a few reasons why from a staff perspective, we wouldn't support the second part of this request. For one thing, it's unnecessary. The Planning Commission already has pretty clear parameters where they could waive connectivity requirements.

"It seems to be a little overreaching," he added. "I understand where you are coming from — it doesn't make sense to me to make somebody deal with a bunch of streets for four- or five-acre lots — that's why we've granted variances on these projects in the past. And the point is we use logic, and looked at these things on a case-by-case basis, and that's language we have already in place."

"You say the Planning Commission can grant variances to a landowner, but that's a maybe," Steve Williams said. "And to take our farm and put it into estate-sized lots, the Town should give a right to some of these, rather than (us) begging for them.

"You could have turned (Keeney property owner) down — there is no opportunity (for variances) other than begging for it."

"The whole definition of estate-sized lot, acreage, is more than just a small lot," Ginny Williams said. "It also means privacy. It's very evident, on our street on Evans Road, if it is not a development, a subdivision, like The Farm (at Willow Creek) or the (Cottages at Pryse Farm) on the far end — our best friends, the Forresters, developed that — they didn't have to have sidewalks or walking trail."

Shipley explained that development was constructed before Town connectivity requirements were in place.

"No one would buy and pay that kind of money for an estate lot and have people be able, with 200-some odd lots behind them now, walking through their front yard," Ginny Williams said. "I feel you are saying (these amendments would be) too overreaching on your Planning Commission, but on the residents' side you are overreaching to us."

"You are asking us to change something that's working right now, and it works OK," Mayor Williams said. "What Mark's talking about, what we have (with) walking trails and all, is designed to connect our town."

"I'm talking about estate-sized lots you say the Town wants — that is already working — you are asking to change that so that new estate lots have to have other people walking through it," Ginny Williams said.

"Ma'am, if you look at the way its written, and you look at all the (developments) he's talking about, we've looked at each one with a clean sheet of paper — that's how we look at it, and that's what I do — and you see different decisions on every single one of them. A good example is the Keeney property," Mayor Williams said.

"I was not planning on saying anything about this because of pending litigation that Mr. Williams has, but I think you are off on the wrong trail here because what we are doing here is what we've been doing for a lot of years. This is not something that's brand new," he added.

Before Ginny Williams began speaking again, Mayor Williams stood up and left the room, as did Aldermen Ron Pinchok, Drew Burnette and FMPC Commissioner Jon Greene.

After the meeting, Mayor Williams said, "They are asking for something we are not going to do. And if you are asking someone to do something, you don't sue them.

"There is nothing from him or her in front of us to look at — for me to discuss hypothetical, I just don't do that," the mayor added.

When asked about any pending ligation against the Town, Steve Williams stated in an e-mail, "I'd rather not comment on legal action now since we are trying to work with the Town to find common ground. However, I was shocked and disappointed at the mayor's rudeness to my wife when she spoke at the meeting.

"He showed his disgust for her viewpoint, slammed his notebook closed and stomped out.  It seemed he did not respect a woman's viewpoint and right to share her ideas in the public square," he added.

"The real story of that meeting was the attitude of our leaders and their disgust and contempt for differing points of view. Neither the mayor nor any of the alderman present, even the ones that represent us on the south side, took the opportunity to say hello or offer to work for a solution at the meeting. The mayor and all aldermen got up and walked out with no words or interaction with us. We are in a sad place in Farragut where leaders disrespect women's right to speak, refuse to engage in open discussion of ideas and despise the people they represent."

Mayor Williams said he had no disrespect for Steve Williams or his wife. "I am sorry to him if I appeared rude or disrespectful," he said. "But the meeting was over. I wasn't the only one who got up to leave.

"Plus, our attorney Tom Hale was not present."

Regarding the specific changes he and his wife are asking for, Steve Williams said, "We feel there should be certainty in the regulations. Now there's no consistent application of connection for roads, walking trails and many regulations.

"We have no ill will or bad feelings toward anyone. We fully expect to sit with the Planning Commission and Board of Mayor and Aldermen and find common ground," he added.

The Williams' request for text amendment changes is set to be workshopped at the Oct. 21 FMPC meeting.