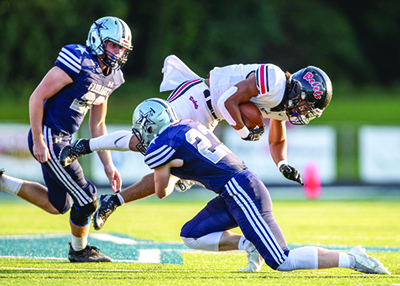 Despite seeing his team drop its third consecutive game to open the season, longtime Farragut football head coach Eddie Courtney remained upbeat.

"I really think good things are about to happen for this football team," Courtney said after the Admirals came up on the short end of a lopsided 42-14 Region 2-6A decision against state powerhouse Maryville Friday night, Sept. 3, at Bill Clabo Field. "We're slowly improving.

"I know that it doesn't look good on the scoreboard and I know that it doesn't look good in the win column, but we're improving and these kids are giving effort."

While hoping to turn things around on FHS Homecoming Night Friday, Sept. 10, versus rival Oak Ridge, the Admirals (0-3 overall, 0-1 in Region 2-6A) saw their offense sputter in the first half, gaining just 46 yards — minus-26 yards on the first three possessions.

Down 21-0 at the break, "We went in at halftime and coach Courtney talked about our brand. Then we came out in the second half and we just played our brand, the Farragut brand of football," said Farragut senior quarterback Dawson Moore, who went 16-for-21 with 181 yards and two touchdowns.

However, after halftime, Maryville scored on its first offensive play of the third frame when Noah Vaughn scampered 80 yards for a score to give the Rebels a 28-0 lead with 11:46 left in the stanza.

Farragut finally got its offense into gear in its first possession of the second half. The Admirals engineered a long 9-play, 80 yard drive that was culminated when Moore fired a 10-yard scoring strike to sophomore wide receiver Landis Davila to make it 28-6. The extra point, however, failed at the 8:18 mark.

After the Rebels answered to make it 35-6, the Admirals had another long scoring drive that ended when Moore connected for his second TD, this one a 38-yarder to Davila, who finished the contest with 77 yards and two scores on five receptions.

Things won't get much easier for the Admirals this week as they host the Wildcats, though Oak Ridge started out 0-2 this season.

ORHS nabbed is first victory, coming at Clinton last week, thanks to scoring 22 unanswered points to notch a 22-7 Region 3-5A win.