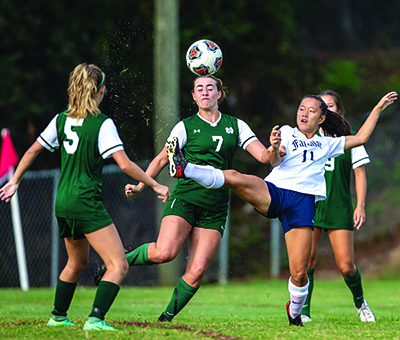 KNOXVILLE --- After being held scoreless for nearly its first 125 minutes of the Bearden Invitational, the Farragut High School girls soccer team finally found the back of an opponent's net in a match Sunday, Sept. 5.

The Lady Admirals answered an early wake-up call Sunday morning to tangle with Chattanooga Notre Dame. It would take a while, but the FHS offense finally awoke from its doldrums after halftime. Annabelle Ekern opened the scoring in the 45th minute against Notre Dame, and Farragut would get a pair of goals from Savannah Noble in a 3-0 victory.

The win represented the fourth clean sheet for Lady Admirals senior goalkeeper Caroline Ekern, an All-state performer in 2020.

Farragut (5-1-1) played Science Hill to a 0-0 draw Saturday afternoon, Sept. 5, at BHS in a defensive struggle. Ekern, however, stopped what scoring chances that the Lady Hilltoppers (4-1-1) could muster en route to notching her third shutout of 2021.

"We need to focus more on finishing and scoring goals," FHS second-year head coach Kristen Lyons said after the Lady Admirals' draw against Science Hill, one of the top teams from Northeast Tennessee. "I'm not really worried about it. We just need to focus more on it.

"We've been working more on keeping our defensive shape.

"I definitely think that in the first few minutes, that they were able to keep the ball in our defensive third of the field," Lyons added. "But we were able to make some adjustments and open things up."

Against Chattanooga Christian School, Farragut lost 1-0 to open play in the Invitational Friday afternoon, Sept. 2.