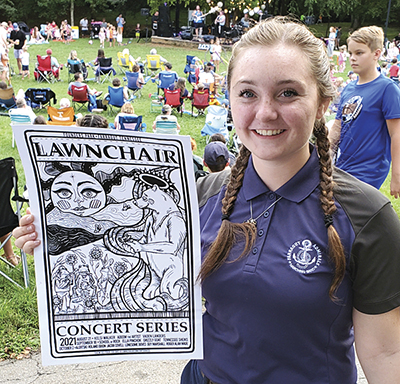 Farragut's own Ella Pinchok will be among featured artists performing this weekend at the LawnChair concert Series Saturday, Sept.18.

The 16-year-old Farragut High School junior and musician will play guitar and sing both original songs and covers, joining a line-up that also includes School of Rock, The Lonesome Doves and Tennessee Sheiks — all beginning at 5 p.m.

"I'm a little nervous, but more so excited," Pinchok said, noting this will be her first time at LawnChair, though she has performed for live audiences several times, including multiple times at Bijou Theatre in downtown Knoxville.

"I met (one of the organizers) Shandy (Dixon) at the Town singer/songwriter event," said Pinchok, who plays several instruments and writes her own music. "After talking to her about possibly performing, she viewed my social media and invited me."

Music is, and has long been, a large component of Pinchock's life. While she "has been singing for as long as I can remember," her school band also has figured in prominently, too, as she has been a member since sixth grade and currently is a flute section leader for the FHS Marching Admirals, with whom she performed at the LawnChair Concert series kick-off in August.

Additionally, she helps lead music for Concord United Methodist Church's youth band — occasionally performing with her mother, Marshanda Pinchok — and has competed several times in the Knoxville ACE Awards (singing) where she most recently placed among the Top 5.

"My family has always encouraged my music," Pinchok said, noting not only her immediate family (which includes her father, Jeff Pinchok), but also her grandmother, Marcia Hughes, who has made a career of songwriting and performance, and her grandfather, Farragut Alderman Ron Pinchok, who shares her talent of drawing. 

However, if music is Pinchok's passion, her artistic talents run a very close second, as she has been commissioned for several projects in and around Farragut — and has her own design business, Ella Pinchok Art, which she started in July 2020.

"Starting my own business has been very fulfilling for me," Pinchok said.

One of her projects came about while her mother (of Marshanda Pinchok Interiors) was recruited for the interior design and decorating of 35 North. Ella worked alongside Marshanda, painting a mural of wings in the food truck bay, painting the Blackie Chan marquee and using chalk to create signage throughout Farragut's newest gathering spot.

She also painted her first live wedding in August at Howe Farms in Cleveland. 

As for pursuing a career, however, "Music keeps popping up," Ella said with a grin.