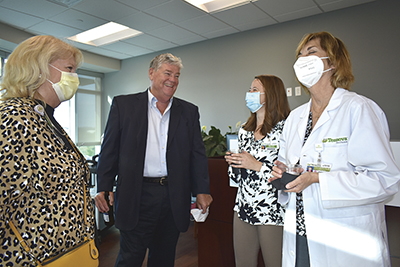 Tennova Medical Group opened a 9,000-square-foot multi-specialty suite on the third floor of Turkey Creek Medical Center's Physician Plaza II Tuesday, Sept. 7, and hosted an open house and reception that evening to celebrate.

Dozens of guests, including Tennova Board members, newly-relocated doctors and Town of Farragut and Tennova dignitaries — including Farragut Mayor Ron Williams and Farragut Alderman Ron Pinchok — gathered to tour the new suites and its offices at 10820 Parkside Drive.

"Opening this multi-specialty suite is a huge milestone for the Farragut community," said Tyler Sherrill, vice president of physician practice operations for Tennova Medical Group. "We are constantly looking at ways to better serve our patients. This development creates convenience for our patients by placing all expertise in one location."

The hospital's cardiac team already occupied a little more than 110,000 square feet of space on the third floor, and now shares room with newly-added services, which include women's care, primary care, Gastrointestinal, general surgery, neurology, foot and ankle and bariatrics.

"The suite is equipped with 36 exam rooms, X-Ray services, ultrasound, full lab and procedure rooms outfitted with equipment, such as a C-arm that is commonly used to support outpatient procedures including fluoroscopy," according to a Tennova Healthcare press release.

"This was modeled after the Mayo Clinic," said Becky Dodson, vice president of Tennova Health Care. "We already had heart doctors (on this floor), but now we have brought in practitioners to provide a collaborative experience that is much better and more convenient for our patients."

The effort's first day of operations was on par with expectations.

"We saw 300 patients today … and expect to see 2,000 patients a week," said Dr. Malcolm Foster III, director of cardiovascular research.

"We got off and running today," said Dr. Cheri Johnson, a primary care physician among those relocating to the suite. "We didn't slow down.

"Previously, we would send (patients) next door for X-rays, for example, and now we can offer it and many other services all in one place," she added.

Crystal Brunson, Tennova director of operations, said finishing out the shell interior was a project that began in 2018 with a planning process firmly in place early on, noting "COVID-19 didn't impact the build-out."

New doctors working in the suite include Johnson, previously of Tennova Primary Care – Farragut; Dr. Lalitha Battineni, Dr. Yoram Casul and Brittany Adair, physician's assistant certified, all of Tennova Neurology — Turkey Creek; Dr. Sudha Nair and Dr. Robert Tatum, both of Tennova Women's Care – Turkey Creek; Dr. Brent Harbin of Tennova Foot and Ankle – Turkey Creek; Dr. Nitin Rangnekar of Tennova Surgical Associates; Dr. Kris Kulisek; and Jeremy Austin, nurse practitioner of West Knox Gastroenterology.

Other new doctors in the suite are Dr. Stephen Boyce, Dr. Mariah Beasley, Dr. Megan Lodeiro, registered dietician Chandler Rodgers, Megan Smith, NP, Cydney Vanosdale, NP and Lana Spence, NP, all of Tennova Bariatric Surgery.

"I am proud of the continued work our physician team does daily to care for our community," said Tony Benton, CEO for Tennova Healthcare East Tennessee market.

"Turkey Creek Medical Center is a hidden gem among the Tennova facilities," Foster said. "It is the smallest, but has unbelievable people here who, every day, offer excellent health care."

For more information or to schedule an appointment, call 855-836-6682 or visit tennovamedicalgroup.com.