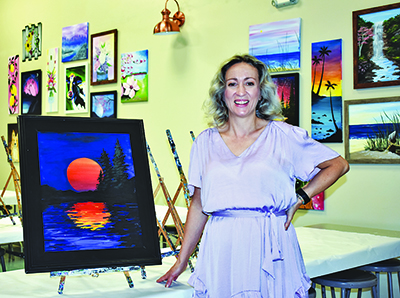 The new owner of Painting With a Twist has found her "happy place" and is excited to share it with the rest of the community.

"I already liked art and had been to the studio before, so when I found out it was available we dropped everything and jumped at the chance to buy it," said Farragut resident and artist Juliana Hammett, who bought the already-established Painting With a Twist from Patty Walden earlier this year.

Initially, the mother of five was "just looking for something to do — for something of my own," when the opportunity arose, but it has become much more than that.

Juliana's art background certainly figured into the decision as well, with Heath Hammett praising his wife's "creativity."

"This place is all about fun," Juliana said. "Everyone leaves here happy. I love being here, and it is much more than a job."

The artists who work for her also enjoy what they do.

"My artists love it," she said of the seven regular instructors who work at the Farragut location. "They already have other jobs, but they work here because they love it. They are awesome and talented."

Tucked away in Concord Square, 11000 Kingston Pike, Juliana is building on a reputation already established by Walden — who owned the business for 11 years.

The location (one of three from the franchise in the Knoxville area) offers two large classrooms where artists teach budding painters from an inventory of more than 17,000 different finished product options.

"We are the leaders in the sip and paint industry, with the 'twist' being 'BYOB,'" Juliana said.

"'Paint Your Pet' is very popular, along with 'Date Night,' 'BFF Night' and 'Family' classes," she added, pointing out moonlight, mountains, seasonal, landscape and beach options among the many offerings that decorate the walls.

"We have open public classes, mainly in the evenings and on weekends," Juliana said. "We also offer private parties to celebrate birthdays, Team building, bachelorette parties, family reunions, anniversaries and all other life events."

"Ninety percent of our classes are made up of women," she added. "It is a nice, safe and clean place where they can come in, have a good time and let loose a little bit, without husbands or kids and celebrate friendship."

Artists may choose from different painting surfaces, including canvas and the recently introduced wood. Another fairly new addition has been wooden "porch leaner" signs.

All class options are listed online at www.paintingwithatwist.com/knoxville. All supplies are provided.

"Guests don't need to bring anything, but are welcome to bring wine, beverages or snacks," Juliana added.

Basic price per class is $38 each and $30 for children.

"Upgrades for different surfaces are a little higher," she said.

Typically, 10 to 15 classes are offered per week, each having a capacity of 34.

"It's really a great thing," Juliana said. "People come out for the fun and they make friends, but also have something personalized to take home as part of the experience."

Painting With a Twist also offers an at-home party option, for those who would rather paint from home.

For more information, call 865-675-2500.