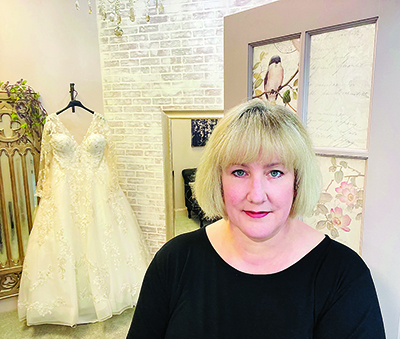 As a master seamstress and award-winning designer, Mimi Wolfe saw a need to give plus-sized brides a special experience in choosing their wedding gowns.

So, she launched Belamour Bride at 10670 Parkside Drive, Suite 103, across from Grayson BMW near Farragut.

Wolfe said she is open now, but has scheduled a grand opening starting at 5 p.m., Saturday, Oct. 9.

And, with bridal sales generally occurring in the fall and winter, she noted, "I'm definitely getting open at the right time.

"Anyone over street-size 14 can come over and have that magical experience," Wolfe added.

Wolfe carries 120 samples in every style in sizes from a bridal size 18, which is a street size 14-16, all the way up to a bridal size 38.

"Even on the larger end of the scale — for a girl who's somewhere between a 32 and a 36 — I have probably 20 dresses they can try on," she said.

Additionally, brides will find such labels as Maggie Sottero and Sottero & Midgley, as well as four private label collections, where Wolfe works closely with the companies so she can get the best fabrics and laces.

"The labels that I carry I'm very familiar with and I love them," she said. "They're good quality; they've been around for a long time, and I really believe in what I'm doing."

Formerly residing in Knoxville, Wolfe and her family moved to Seattle but relocated last year to Blount County to be closer to the parents of her partner, Benjamin.

Wolfe had an alterations business both in Knoxville and in Seattle and has about 30 years of experience in working with brides and bridal gowns.

"Two years ago, when we were still in Seattle when I was doing alterations, I started noticing that a lot of larger-sized girls were coming in with just horror stories," she recalled.

"They couldn't find a dress; they only had a couple to try on; (and) sometimes they could only just hold a dress up in front of them, instead of actually having something they could try on," Wolfe added. "For larger sizes, it's sometimes downright disappointing and sad.

"Shopping for a wedding dress is supposed to be amazing. ... "For me, (it's about) selling to a group of brides that have been almost ignored."

While terrified about opening a business, Wolfe said about her decision, "I know it's the right thing (to do).

"It has taken a little bit longer than I thought, but everything has just fallen together so well," she added.

For more information about Belamour Bride, call 865-535-5353. The website is www.belamourbride.com, and brides can book appointments online.