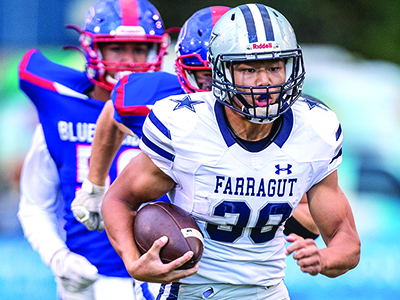 CLEVELAND — In a battle between outstanding runningback performances, Cleveland senior Tetoe Boyd got the last laugh — meaning the last few critical carries of a 332-yard performance to eat clock and give his Blue Raiders a hard-fought 27-24 Region 2-6A win against Schumann Xie and the Farragut Admirals Friday evening, Sept. 17, at CHS.

Xie, a senior runningback, rushed 20 times for 225 yards and two touchdowns, the most dramatic of which came from 80 yards out on the final play of the first half, giving FHS huge momentum going into the break with a 21-14 lead.

He also broke loose on a 47-yard scoring scamper midway into the second quarter that tied the game 14-14.

"Schumann picked it up; and we got positive yards when (junior runningback Elijah) Gibbs got in there," Farragut head coach Eddie Courtney said, as Gibbs finished with 33 yards on 12 carries.

"I think we played well, certainly in the first half," the Admirals skipper added. "I thought our offensive line did a good job — probably their best game this year."

But the 5-foot-11, 206-pound Boyd and the Blue Raiders running attack kept punishing a stout, yet tiring, FHS defense in the second half.

The senior ended with his career-high 332 yards on 36 carries and second-half touchdown runs of 4 and 1 yards.

"We really could not tackle him; he did a really good job," Courtney said of Boyd, who also, as a linebacker, recovered an FHS fumble at the Cleveland 33 early in the fourth quarter.

"He's a state champion wrestler and a hard-nosed football player," Blue Raiders head coach Marty Wheeler said about Boyd. "He doesn't mind putting the team on his back in the fourth quarter."

As for the game, "It was like a heavyweight bout," he said. "We were able to make a couple more plays than they did.

"One heck of a football game," as Wheeler's team is 4-1 overall, 1-1 in region.

"We didn't answer things; we made mistakes offensively, got out of sync," said Courtney, whose team fell to 1-4, 0-2.

Ads senior quarterback Dawson Moore's 1-yard TD run tied it 7-7 late in the first frame, coming after Blue Raiders quarterback Drew Lambert hit a wide open Destun Thomas for a 75-yard TD pass on Cleveland's first play from scrimmage. He also fired a 17-yard scoring pass to put CHS up 14-7 in the second quarter.

While senior kicker Reese Keeney's 38-yard field goal would be the lone Farragut points in the second half, his 19-yard run on a fake punt put the Ads at midfield with less than six minutes to play.

But that drive stalled when "we got a holding penalty, that killed us. ... We should have gone down there and scored," Courtney said.