Ullian, Rigsby take over ActFast CPR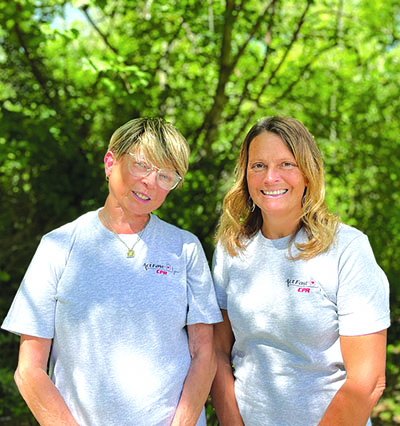 Jennifer Ullian went to work for Charlotte Rigsby at ActFast CPR nearly two years ago and enjoyed it so much she purchased the business.

Now roles reversed, as Rigsby has stayed on, the Farragut women continue working together, educating individuals and companies on how to save lives.

Rigsby founded the company, originally named ActFast Inc., in 1995 following three years as a CPR instructor, offering CPR and first aid training.

"I thought, 'I can do this,'" she said. "I loved it. I had a lot of contacts in the construction industry, but a lot of business came to me through word of mouth."

She worked with many companies down through the years, helping with certification requirements, and eventually expanded the business to include Automatic External Defibrillator instruction.

Rigsby had worked alone, but reached out on the social media site Nextdoor in 2019 seeking some assistance.

"I was looking for anyone interested in becoming an instructor, and Jennifer was the only one who answered me," Rigsby said. "We just meshed, personally, and she's been helping me ever since.

"Sometimes, people are put in your path for a reason."

Ullian came to ActFast CPR after working 22 years as a registered nurse. She, her husband, Jeff, and their two sons moved to Farragut from Naperville, Illinois, when Jeff was recruited by Oak Ridge National Laboratory.

Rigsby said the pandemic "just did me in" and asked Ullian last year if she would be interested in buying the business. Ullian wanted to talk to her husband first, but told Rigsby she would "really like to do that."

They made the change official in April.

"She is just a lovely person, and a good instructor, and is in a position to take everything to next level," Rigsby said. "And I'm still working with her. She does the hard part, and I get to go play and teach.

"It is such a blessing to have a job you love."

Act-Fast CPR is described as offering "purpose-driven courses that will help sustain life during healthcare emergencies."

"This is the kind of training you need but hope you never have to use," said Ullian, who confirmed she is working to grow the business which "has a lot of potential."

"While Charlotte mainly worked with the construction industry, I'm looking at expanding into the health care industry with my health care background," Ullian said. "... I never want to get so big that (familiarity) is no longer the case."

Ullian said as she expands, she would like to hire employees with nursing or medical backgrounds, to be able to answer any and all questions posed during training sessions.

For more information, visit actfast-cpr.com, e-mail info@actfast-cpr.com or call 865-671-0657.