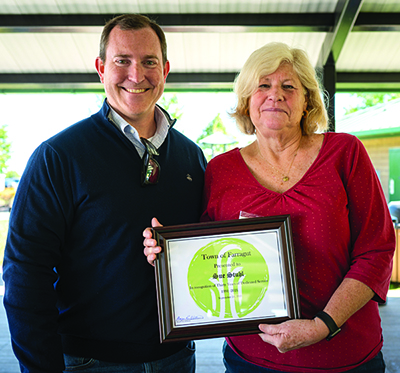 Even though she has 30 years of service under her belt — and recently was honored for it by the Board of Mayor and Aldermen and Town administrator — Farragut's Parks and Recreation director Sue Stuhl is not quite ready to hang up her cleats.

"The job I have is wonderful, so I'm not ready to retire yet," she said. "There is too much fun in the future. So many projects."

That was certainly not the case when she came to work for Farragut in September 1991 as Community Programs director. At that time, the Town had only two parks — Anchor Park and Mayor Bob Leonard Park — and Stuhl's office was located above Rick Terry Jewelry Designs as Town Hall was under construction.

As one of the Town's longest-serving employees, (Public Works director Bud McKelvey has the honor of being with Farragut the longest at 34 years), Stuhl now oversees what are arguably the Town's biggest draws — it's parks and recreational facilities.

Shortly after she was hired, Stuhl helped with Town Hall's November 1991 opening, and her office remained there until the long-awaited Town dream of a Community Center was realized last year.

Starting as a department of one, she now has nine full-time employees and many part-timers who help oversee the Town's parks and amenities.

Under Stuhl's tenure, the desire for "a park at all four corners of Town" has been more than realized. Founders Park at Campbell Station was begun in 1993, followed by the initial acquisition of 26 acres for McFee Park in 1995, which has grown to more than 50 acres.

The Town's purchase and refurbishing of Campbell Station Inn, along with the design and construction of the Mayor Ralph McGill Plaza, completed late last year, also fell under Stuhl's jurisdiction.

She also grew Town events, as only the Independence Day Parade and the Bob Watt Fishing Rodeo were in place before she began working for Farragut, adding Freaky Friday Fright Nite and the Shamrock Ball, among others.

She also has overseen a robust ever-growing holiday lighting season, which now begins the week of Thanksgiving and concludes in early January, kicking off festively with Santa, singing and a lighting ceremony revealing a wonderland along the Town's portion of Campbell Station Road.

Current projects nearing completion include the all-inclusive handicap-accessible Blue Cross Healthy Places Playground behind Town Hall (covered completely by a $750,000 grant Stuhl successfully applied for last year) along with McFee Park Phase 3, which is the Town's largest capital project to date.

Regarding Stuhl's 30 years with Farragut, Town administrator David Smoak said, "It's rare that you have someone stay with an organization for so long, so it's definitely a cause for celebration when someone on your team demonstrates that level of commitment.

"During the time Sue has been with the Town, our Parks and Recreation program has grown exponentially," he added. "Her leadership has helped us improve our parks, secure grants to fund improvement and expansion projects and to create a vision for how our parks would expand and grow over time."

Stuhl herself remarked, "It's really hard to pin down one thing (as my favorite). There have been so many projects, events and people.  But if I had to choose, it would be working with the variety of people over the years.  

"I've been fortunate to work with and for so many extremely talented and fun staff members. It truly is like a family — many of whom have left but I still keep in touch with."

She has said she isn't much for celebrations, but was surprised with a plaque from BOMA Tuesday, Sept. 23, and again at the annual Town employee picnic Sept. 24.

Stuhl and her husband, John Stuhl, have two married daughters, one in San Fransisco and the other in Louisville, Kentucky.

"They each have one child, so we now have a 4 year old grandson and a 1 1/2 year old granddaughter, and we try to see them as much as we can," she added.