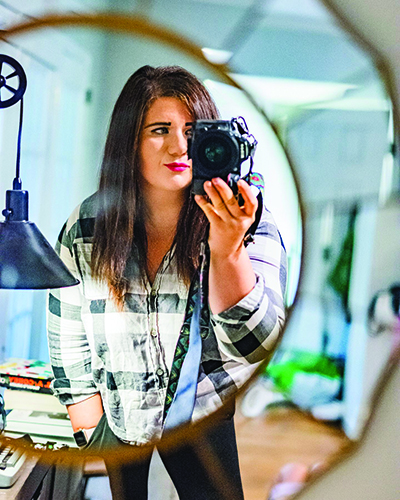 Farragut resident Chloe Garfield captures families' organic moments into portraits with her new, home-based business, Studio 865.

"I just love using the scenery that I have to take family portraits," she said.

Garfield uses natural backgrounds as a backdrop for her portraits, some posed and some candid.

"I have families play together and capture their smiles, their laughs and those organic moments together," she said. She also takes posed shots as families sitting on a blanket or with props.

One of Garfield's favorite shooting locations is The Cove at Concord Park, but she also photographs clients at Melton Hill, Hardin Valley and a couple of places in Farragut.

"For the most part, I love incorporating the greenery of Farragut, natural landscapes and the trees, especially in the fall," she said. "I love incorporating the fall colors."

Garfield currently only does outdoor photography but would like to have a brick-and-mortar studio some day.

For now, though, she meets clients at the chosen location, giving them a couple of options.

"A lot of people love The Cove because you have the pretty trees and you have the water," Garfield said.

To book a photograph session, Garfield has a Facebook page and an Instagram page.

"That's the best way people can check in on what I'm doing," she said. However, people also may call 865-361-3210 or send an e-mail to chloegarfield@gmail.com.

A "side gig for 10 years," she decided to make it a business last month then expanded.

"I have a lot of clients, and got in a good position," she said. "Also, my youngest (child) went to kindergarten, so this year was when I could have a lot of time and focus on really building up my business and making it known in Farragut and Knoxville."

A native of the Western United States, Garfield earned a Bachelor of Fine Arts degree from the University of Utah in 2012.

"I just always loved taking photographs of people and decided to pursue it further in college," she said.

The Garfield family moved from Utah to Florida, where she started taking family photos on the beach.

Then, five years ago, she traded the beach for the mountains when the Garfields moved to East Tennessee. She moved to Farragut three years ago.

Taking family photographs came about after trying different styles, such as weddings and newborns, while Garfield was trying to find her niche.

It came down to "I just really love families," she said.

And, as a mother of three, she saw the appeal of photographing children and families.

"I just kind of realized that I just wanted to hone in on one thing and focused on family portraits," she said.