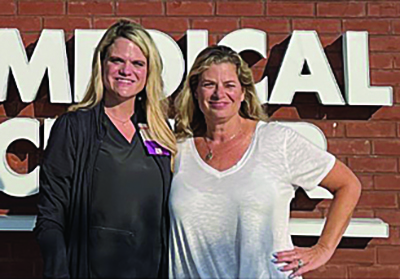 The Middle Path Knoxville has partnered with GI for Kids at 1975 Town Center Blvd., Knoxville, to provide pediatric gastroenterology and nutrition services to children and youth from birth to 18 years old starting Monday, Oct. 11.

"We are accepting referrals now in preparation for starting our first group on Oct. 11," said Hope Reneau, founder/owner/director of Middle Path.

"When we open and get going, I'll be running groups from 4:30 to 7:30 p.m. Monday, Tuesday and Thursday," said Dr. Susan Baker, clinical director for the practice.

The Middle Path is a mental health intensive outpatient program serving Knoxville, Chattanooga, Maryville and Tri-Cities.

"We're making sure that the physical side and mental health side are working together to get the support that they need," Baker said.

"Studies have shown a strong correlation between gastrointestinal issues and mental health," said Joshua Russell, The Middle Path business operations manager. "In a recent article in Harvard Medical Publishing, Harvard Medical School stated 'The brain has a direct effect on the stomach and intestines.'

"For example, the very thought of eating can release the stomach's juices before food gets there," Russell said. "This connection goes both ways.

"A troubled intestine can send signals to the brain, just as a troubled brain can send signals to the gut," he added. "Therefore, a person's stomach or intestinal distress can be the cause or the product of anxiety, stress or depression.

"That's because the brain and the gastrointestinal system are intimately connected."

"We focus on mental health, and our patients will come to us with a diagnosis, typically an order or diagnosis of something along the lines of a medical condition," Baker said. "Typically, what we're looking at is a medical condition related to the GI tract.

"Our hope is that we can get (the mental and medical components) merged together, so we're making sure their needs are met medically and also with mental health," she said. "So we can teach our kids the skills to be able to … work through anything they are going through that could be related to their mental health condition and also the GI."

Baker said they will be working on nutrition, exercise, energy therapy, meditation and yoga.

"In addition to that, we will have a lot of parent involvement, as well," she said. "Our hope is that we will have all that we do at The Middle Path at GI for Kids that they can carry over to their everyday life."

"We are specifically a higher level of care," Reneau said. "We are an intensive outpatient program.

"We run these groups three hours a day, three days a week, for six-and-a-half weeks," she added. "The Middle Path, before we joined with GI for Kids, has been open to provide this service to adults and adolescents since 2016, and we're in the community to provide intensive treatment to either to keep people from going into a psychiatric hospital or a residential program.

"Or, when they come out of the hospital or residential treatment, we're there to provide step-down level of

care. We have psychiatrists on staff, nurse practicioners and therapists."

While licensed with the state as a mental health facility, she said this is the first time it has been a pioneer in "taking this intense level of care and combining that with the GI medical piece."

While doctors' having therapists in their offices is not a new concept, Reneau said what is new is "our level of care, as an intensive outpatient program, being in a medical facility.

"That is very unusual, and we believe we are the only ones in the country, thanks to (GI for Kids') Dr. (Dr Youhanna) Al-Tawil's vision to have full care — psychological, nutrition, holistic and a medical piece — for children," she added.

The Middle Path also will provide inpatient and outpatient services at East Tennessee Children's Hospital, Turkey Creek Medical Center and University of Tennessee Medical Center, Russell said.

"The Middle Path are pioneers in mental health, and the opening of this new gastrointestinal-focused IOP facility is the first known in the United States," he added.

"Working in conjunction with their medical care under Dr Al-Tawil at GI for Kids, patients at The Middle Path's Intensive Outpatient Program will receive dialectical behavioral therapy that includes mindfulness training focused on nutrition, food and mood, meal preparation and planning with nutritionist and executive chefs and physical exercise routines."

For more information about The Middle Path, visit www.themiddlepath.life.