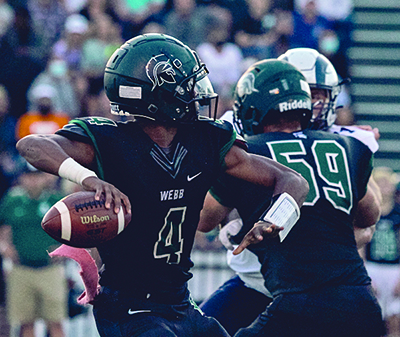 KNOXVILLE — While the Webb School of Knoxville offense relied on "some big plays," the Spartans defense "played great the whole time."

Those quotes, from Webb head coach Dave Meske, reflected how his first-team defense shut out Division II-AA East Region rival Grace Christian Academy in the stadium named in Meske's honor Friday evening, Oct. 1.

"We made enough plays to win the football game," added Meske, whose team improved to 4-1 overall, 3-0 in region, after the 24-6 win. Grace fell to 1-4, 0-2.

"We've got to continue to become consistent as far as moving the ball down the field."

"I think it was a great game by the whole defense," said sophomore defensive end Ari Klasky, whose fumble recovery early in the third quarter helped seal GCA's fate.

Leading individual defensive efforts for Webb start with junior linebacker Joey Bonifacio's 15 tackles (8 solo), followed by senior linebacker Cooper Cameron's 12 stops (seen solo), including a sack for a 12-yard-loss.

Knox Foss, senior defensive end, ended with tackles (four solo), including a minus-3 yard stop, and Leo Bonifacio, senior defensive end with six stops (3 solo) including two sacks for minus-17 yards.

Building the lead after a mistake

A dropped touchdown pass came before a red-zone interception in the final seconds of the first half, as the Spartans offense failed to cash in and settled for a 10-0 lead at the break.

However, after Klasky's fumble recovery at the Grace 45 just a few plays into the third quarter, it took just one play to make it 17-0.

"Coming out in the second half and having that beautiful pass to Markeis (Barrett) from Charlie (Robinson), that was a game-breaker," Meske said about his junior quarterback hitting the Spartans standout sophomore receiver in stride down the middle of the field.

On fourth-and-2 at the GCA 3, Robinson found tight end Garrett Carnathan, and the seinor made a nice catch over a Rams defender to build the lead to 10-0 with 3:28 left in the first half.

In addition to going 3-of-3 on extra points, Webb senior kicker Otto Niendorff booted a 39-yard field goal.

A 2-yard touchdown run by Spartan senior Dominic Vance, the game's rushing workhorse (82 yards on 14 carries ) made it 24-0 in the fourth quarter.

Unbeaten Silverdale next

Looking ahead, "Next week is going to be a challenge. Silverdale is probably going to come in undefeated," Meske said about the Chattanooga region rival, which indeed brings a perfect 6-0 record, 3-0 in region, to David Meske Stadium Friday, Oct. 8.

"We're going to have to play great to win that football game," the Webb coach added.

Opening kickoff is 7 p.m.