Services offered by Embassy Veterinary Center Hardin Valley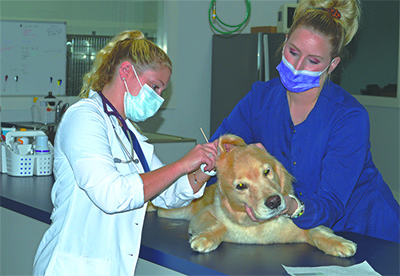 Embassy Veterinary Center Hardin Valley is offering a comprehensive pet care service to Knox County.

The center, which opened Sept. 13 at 11424 Hardin Valley Road across the street from Hardin Valley Elementary School, provides veterinary care, grooming, boarding and a doggie daycare.

"We pride ourselves in serving the community with leading veterinary care," said Dr. Mitch Rosenzweig, CEO and veterinary surgeon at Embassy Veterinary Centers. "We look forward to expanding our hospitals, both locally and nationally, providing exceptional service with our patient's well-being as a top priority."

"This brand new two-story 8,000-square-foot building hosts five inviting exam rooms, two state-of-the-art surgical suites and an open concept floor plan, allowing ample space for pets to receive various treatments," said Katie LeVan, Embassy's director of marketing and communications.

Its veterinary care includes wellness checks, vaccines, dental, spaying/neutering, soft-tissue (mass removals) and orthopedic surgeries, ultrasound, X-ray, blood work and heartworm and other parasite control.

"Our veterinary staff includes a rotation of six highly trained doctors who offer complete services, such as wellness exams, elective procedures, soft tissue and advanced orthopedic surgeries," LeVan said. "Completing this impressive building is the private doggie daycare area, furnished with pet-safe play equipment, three separate areas compiled of high-quality pet turf and separate small and large dog play areas.

"As for your pet's home-away-from home experience, the kennels come complimentary with elevated waterproof bedding, BPA-free bowls for feeding and all the upgrades you could imagine, including go-home baths," she added. "Additionally, boarding with Embassy Veterinary Center allows for complete customization of kennel sizes, additional walks and foods enrichment, all accompanied with the benefit of on-sight veterinary care."

Embassy's Hardin Valley center is one of three locations in Knoxville, with the others at Emory Road and in Powell.

"And we are looking at future expansion in this area," LeVan said.

The continuing growth of the Hardin Valley community, and its reputation for pet friendliness, spurred the practice to expand there.

"Knoxville, Tennessee, is one of the pet friendliest cities in the nation," LeVan said. "We knew that it was a community that had definitely been affected by the increase of (pet) adoptions; so we knew by coming into an area that we know has a great pet-oriented community, we knew the best way to serve it is by building a high-level, of full-service veterinary center."

"Choosing to start our business adventures in Knoxville was the perfect complement to this dog-friendly city, and we are excited to bring that atmosphere with us as we continue to grow." Rosenzweig said.

"We were blown away with the level of compassion and expertise the staff has," said Shawn and Kelly Short, founders of Project22vet Inc, a non-profit organization providing companion pets for veterans, stated in a press release about their experience with Embassy.

LeVan said the Short family and owners of Jake and Niko (two young German Shepherds) have been using Embassy's grooming and veterinary services to serve their next handlers as comfort companions for veterans who struggle with PTSD.

Embassy Veterinary Center also has recently partnered with Hardin Valley schools to provide a free wellness exam to every teacher and staff member of Hardin Valley Academy.

"We acknowledge the challenges that face many faculty members in this school system and strongly believe in helping in any capacity," LeVan said.

The center is open from 7 a.m. to 6:30 p.m., Monday, Wednesday and Friday; from 7 a.m. to 7:30 p.m., Tuesday and Thursday; and from 7 a.m. to 1 p.m., Saturday. It is closed Sunday.

For more information or to book an appointment, visit its website at www.embassyvets.com or call 865-868-8387.