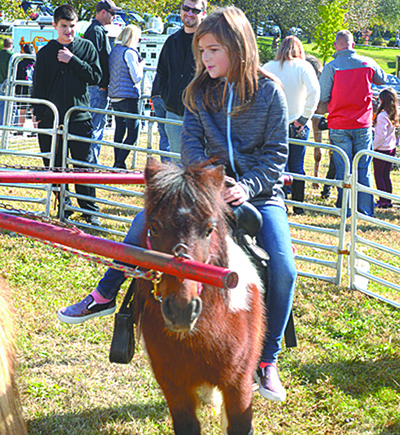 Farragut Primary School Parent-Teacher Organization once again is hosting its annual Fall Festival.

"I'm super excited for the 29th Annual Fall Festival simply because we get to bring joy to the students, their parents and teachers," said Sarah Warren, Fall Festival chair. "We're getting together, as a community, to create lasting memories for our kiddos, just like we had when we were younger.

"The entire event will be filled with laughter, games and yummy food," she added. "It's going to be a blast."

She noted the event normally draws about 1,500 to 2,000 attendees.

This year, the fundraising event, which is free and open to the public, will take place from 11 a.m. to 3 p.m., Saturday, Oct. 30, at the school, 509 S. Campbell Station Road.

The festival will feature carnival games, sponsored by the school's community partners, a bake sale, silent auction, inflatables, crafts and pizza from The Farragut Table.

"We pre-sell wrist bands for $15, or they can be purchased the day of the event for $25," Warren said. "A wrist band gets you access to all of our games, crafts, inflatables and much more.

"It only excludes food," she added.

To purchase wrist bands, which go on sale after fall break, visit PTO's new website: www.fpspto.org.

FPS principal Lynn White and some teachers will participate in a raffle to be "pied-in-the-face" by a student.

"The raffle winners will be announced on our website and social media and will get to pie Mrs. White and others at school one afternoon in November," Warren said. "Mrs. White will broadcast this event to all the classrooms via their active boards.

"We will have raffles for Spirit Wear items," she added.

In the past, the second grade entertained attendees with a performance.

"In lieu of the musical performance, we will invite the second-graders to wear their Halloween costumes and parade through the festival grounds led by parade marshal and music teacher,

Marcus Smith," Warren said. "The parade will begin at 1:15 p.m."

Along with the inflatables and bake sale, the silent auction also returns.

"The silent auction will be offered live at the event and online," she said.

To benefit the school, "we hope to raise $35,000," Warren said. "We work with the school to determine their needs and what the best use of these funds should be.

"In years past, money raised has been used for new technology, classroom needs, playground equipment, etc.," she added.

The last year FPS held a Fall Festival was in 2019, as COVID-19 prevented the school from holding the festival in 2020.

In 2019 — including sponsorships, silent auction, and sales — the festival raised a little more than $40,000, according to Warren.