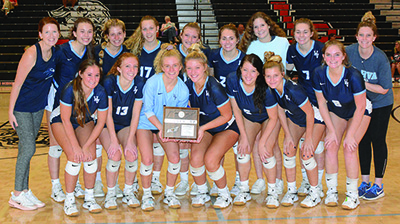 OK, the Hardin Valley Academy Lady Hawks would like to have won the District 4-AAA Volleyball Tournament title Thursday night, Oct. 7, at Lenoir City High School.

But Joy Waller's No. 4-seeded girls (30-9 record to begin the week) were nonetheless happy with a runner-up finish, having ended rival Farragut's season — in a five set thriller — in the semifinals before losing in straight sets to tournament champ Maryville.

Despite Farragut's 26-24 win in game four, the Lady Hawks responded to win 15-12 in the deciding set.

"There were a lot of crazy plays, and we were down in the fifth (set), but we had a good service run" to help fuel the rally, said HVA senior middle blocker Emilia Hoppe, who was named to the All-Tournament team.

"Basically it was all or nothing against Farragut, and we knew that. ... So we just pushed as hard as we could," Waller said. "It was their decision to pick it up, get together and do the job right,"

Saying her team had improved a lot in one month, Hoppe also noted, "We had a meeting in the locker room about a month ago. ... We knew we could go far. We had like a (special) moment.

"This is the farthest we've made it in five years," she added.

"It was a tough loss, but they played hard," said FHS head coach Jo Madden, whose team finishes 18-8. "In my second year (as head coach), I couldn't ask for a better group."

District 4-AAA honors

All-Tournament honors also went to Lady Hawks senior Kami Livingston, earlier named 4-AAA Libero of the Year, and Farragut's Kate Priest, senior outside hitter named "Hitter of the Year."

Hardin Valley's Annah Cate Hyatt was named the district's "Sophomore of the Year," while Ellie Ackermann, Lady Admirals senior middle hitter, earned "Blocker of the Year" honors in 4-AAA.

Academic Honors in district went to senior Kaylin Livingston of HVA, Kelly Su and Ashley Hilbelink of Farragut and Marissa McMahon of Bearden.

All-District 2nd Team honorees were Meg Frank of FHS, Keely Stillwell of HVA and Alyssa Campbell of Bearden.

Honorable Mention All-4-AAA choices were Hoppe, Tori McNair of Farragut and Mc Mahon.

Hardin Valley played in the Region 2-AAA Tournament at West Tuesday evening, Oct. 12 (after deadline).