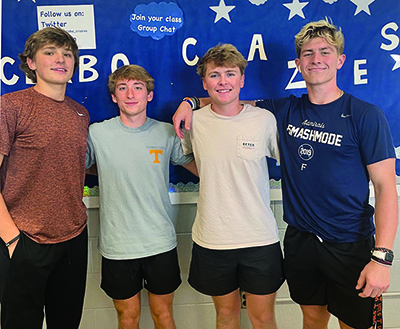 Farragut High School is "excited" to host its 4th Annual Pink Out football game benefitting the American Cancer Society's Making Strides Against Breast Cancer, said organizer Stephanie Slagle Thompson late last week.

The FHS Admirals will take on the Bearden Bulldogs, with opening kickoff at 7 p.m,. Friday, Oct. 29. The Pink Out game is a tradition Thompson started in memory of her sister, Ashley Slagle Roback, who lost her battle with breast cancer in 2013.

Ashley, an FHS alumnae, volunteered with the American Cancer Society, and the Slagle family continues to volunteer.

Three years ago, a new tradition began when two FHS seniors offered to shave their heads if they raised $5,000 for the cause. They met their goal and more, as did the three seniors last year, Thompson said.

"This year, four FHS seniors, Charlie Hobson, Brett Holloway, Evan Deucker and Garrett Brewer, have volunteered to have their heads shaved during the third quarter of the football game if $5,000 is raised for the American Cancer Society," Thompson noted.

Donations can be made at https://farragut-pink-out-2021.cheddarup.com or at the game on Oct. 29.

Additionally, "all Farragut schools will have a 'Pink Out' Friday, Oct. 29, and we invite the Farragut community to join us," she added.