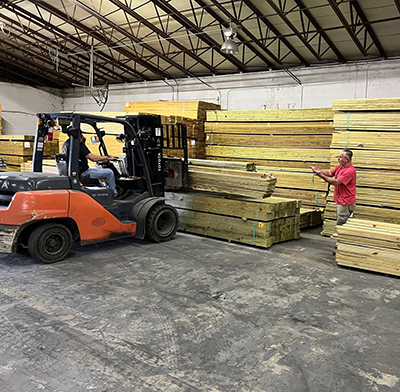 When a group of Knoxville professionals in the construction business saw a need for quality lumber, they stepped up and started Legacy Lumber Sept. 1 at 2099 Thunderhead Road, Suite 204, above Cazzy's Corner.

Randy McCoige, operations manager and one of the partners. said the company is the "spin-off" of Legacy Construction & Remodeling, LLC., which has been in operation for a number of years. McCoige is joined by partners including Scott McPhearson and Jason Wyatt.

"We were traditional residential-commercial builders, along with industrial," he said. "We've done a lot of different type of work, but we saw a need for high-quality lumber at a fair price.

"We are here to serve builders that are underserved by traditional big-box stores," McCoige added. "We're not so much for mom and pop coming in to buy one board.

"We supply a big majority of lumber for cabinet builders in the Sevierville area, as well as local contractors looking for high-quality lumber. The difference is (as a contractor), you can go a big-box store, and you're going to have to pick through hundreds of boards to find straight lumber.

"We only offer high-quality lumber, meaning it's been graded and it's the top of the mark.

Saying the company is "a little bit different." McCoige added, "We're not there to be the cheapest in town; we're there to be the best in town, and that market is just not served until now."

As contractors, "We were tired of the different stores not providing this service that we thought our customers deserved," he said. "There were countless times we had to hold up projects because the lumber being delivered wasn't up to our quality specifications, so we set out to be a difference maker — and that's where we are today.

"We're builders that decided enough's enough," McCoige added.

"I never want to be in competition with Home Depot. My goal is to give contractors a product that, when they call me … when it arrives at their job site, they don't have to worry about returning anything. They don't have to worry about it being good material."

"We know our material is the best in town and our delivery is unmatched," he added.

Legacy Lumber is made up of nine staff members. "We have an excellent staff," McCoige said. "Our warehouse manager has been in the building industry for a little more than 30 years."

The company is open from 7 a.m. to 4 p.m., Monday through Friday, or anytime by appointment.

Builders and contractors may call McCoige at 865-898-6767.