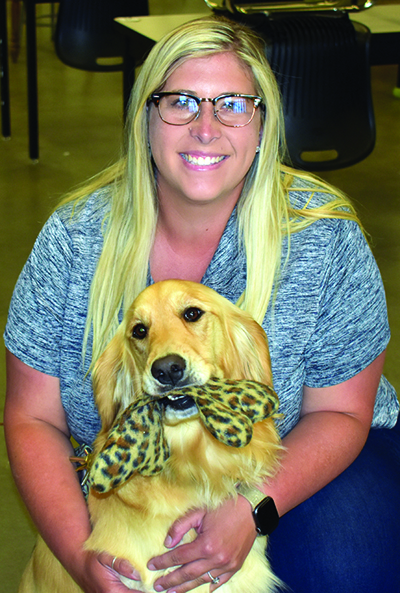 Farragut High School's Key Club is taking an active role to help raise money for a teacher's beloved pet's medical expenses.

The club, under the guidance of sponsor Elizabeth Toth, began a fundraiser Tuesday, Oct. 19, for 3-year-old Hartley, a golden retriever owned by agricultural sciences teacher Taylor Watson, as the canine recently was diagnosed with chronic renal failure.

Harley is certified a Human Animal Bond In Tennessee canine, and as such has been in Watson's classroom since she began teaching at FHS last year, creating a unique learning environment and involving Watson's students much more personally.

"A few of my students have Mrs. Watson and Hartley for a class … and she notified students of Hartley's newly discovered illness," Toth said. "Some students (who are members of Key Club) and parents wanted to reach out to see if we could do anything to help.

"Since Key Club (a student organization affiliated through Kiwanis International) is

centered around leadership and volunteer opportunities, we are excited to be able to

help out Hartley and Mrs. Watson."

For her part, Watson was touched and overjoyed with the Club's generous offer.

"We can't thank you enough for loving our girl so much," she said. "Since Hartley was

a tiny pup, she has been bringing joy to so many lives. As soon as she was old enough, she became HABIT-certified through the University of

Tennessee. Her therapy dog certification allowed me to bring her to school with me and share her amazing personality and infectious love with everyone.

"In our short time at Farragut, she has developed quite a fan club," Watson added. "I think it is safe to say everyone that has met Hartley has been blessed. Not only does she provide smiles, wags, licks and stress relief, but she also serves as a key learning tool in our animal science classes. She loves each and every one of 'her kids.' It is almost as if she can tell who needs her love and attention most."

Of Harley's condition, Watson explained, "Her doctor believes it is a congenital kidney problem that she has had her whole life. In her case, having kidneys that have little to no function is causing her body to basically poison itself.

"Unfortunately, there is no cure, and it cannot be reversed, but progression may be slowed," she added. "Hartley's kidney values were extremely elevated, and after IV fluids, medications and a prescription kidney diet her levels were improved some.

Above all else, "if you could keep her in your thoughts and prayers, we would truly appreciate it," Watson said. "We are praying that the treatments help, her appetite remains and that she feels good and happy for as long as possible."

Farragut High School Education Foundation is offering assistance, too, by helping the Key Club raise funds for Hartley's medical bills.

"All funds donated to the Foundation during this campaign will be paid directly

to Hartley's vet," Toth said.

The fundraiser runs through Friday, Oct. 29. By the second day of donating, $895 had been raised. Those wishing to donate can visit givebutter.com/Hartley

Those wishing to use the apps Venmo or Apple Pay, must do so from a mobile device, Toth said.

"We will e-mail you a receipt for your donation," she added. "All others payment methods (PayPal and credit card) will automatically receive a receipt from Givebutter.

Anyone wishing to donate to Hartley's vet bills may continue to do so after Farragut

For more information, e-mail elizabeth.toth@knoxschools.org.