Revenge win vs. Briarcrest, in a sweep, gives Carter, Catholic Div-AA state crown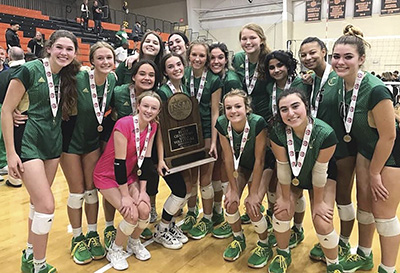 MURFREESBORO — It might have seemed that a five-set loss to Briarcrest in the winner's bracket of the TSSAA Division II-AA volleyball state tournament would have been devastating.

But Knoxville Catholic head coach Brent Carter was confident there would be a rematch, in the state championship match, against this powerhouse Memphis program Thursday, Oct. 21, at Middle Tennessee Christian School.

There was. Except this time it was a straight-set victory — for Carter's Irish (25-23, 25-23, 25-21), earning the program's second state crown in six years (also 2016). Briarcrest lost for just the third time all season (40-3).

"We stuck to our gameplan in the first match, no matter what the result was going to be," said Carter, whose team finishes with a 34-10 record. "I felt all along that we were the best team there, and that we would have another shot at them."

However, when it came time to put up or shut up, "We made a couple of small defensive adjustments in the second match that really proved to be (critical)," he added. "When you have two good teams playing, it comes down to two or three points here or there, you're not going to have a lot of blowouts.

"And that's exactly what happened. The girls adjusted very well and we played exceptionally clean in that final."

Bellamy Parker had 13 kills and nine digs in the title match for Catholic, while Devyn Dunn added 34 assists and seven digs. Alyssa Adams contributed 10 digs while Grainne McGrath connected for eight kills, as did Blair Cherry. Emma Meyer added four digs.

Concerning his 14 players, and including the team manager, "They all played a vital role in us preparing for that moment," Carter said. "We built for that the entire season. And it paid off."

As for his seniors going out on top, "They were hungry to be the best that they could be when it came to leadership," the KCHS coach said. "That really was a difference maker for us because they wanted to learn and they constantly wanted to be better."

These qualities, which Carter said extended well beyond the volleyball court, "was really more about life skills and day-to-day operation … leading by example for the rest of the kids in the program, and leaving a legacy for future kids to come.

"They did that in spades, and I couldn't be more proud of them and for them," he added.

Comparing this state crown to his first at KCHS in 2016, "They are very different for me as a head coach," Carter said. "We've been in the finals six teams, we've won two.

"There's humility in losing four."

Carter's Lady Irish rebounded from the loss to Briarcrest, fighting off elimination against Father Ryan (18-8) with a 25-16, 15-25, 25-23, 25-18 victory Wednesday, Oct. 20. Catholic also beat this same team in straight sets to begin the tourney Tuesday, Oct. 19.