Lady Lions Division II-A state runner-up for 3rd time in last 5 years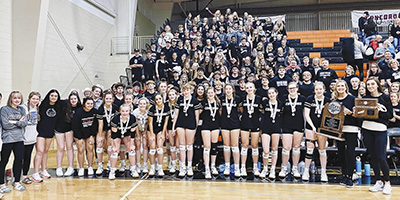 MURFREESBORO— A TSSAA Division II-A Volleyball State Tournament runner-up for the third time since 2017, "It was a great run for Concord," Concord Christian School head coach Carmen Hochevar said about her 2021 team, which finished with a 22-15 record. "If I had to name a few key successes, it would have to be energy, the desire to win and lots of prayers.

"Coming in as the underdog with a third-place finish in the regional tournament, this team stepped up and peaked at the perfect time," she added.

The Lady Lions defeated Goodpasture in the state quarterfinals, the defending 2020 Division II-A state champions, earning a "final four" trip to Murfreesboro.

Concord then defeated Northpoint, the No. 1 West Region team, in the "final four" loser's bracket, and avenged a first-round loss Notre Dame, the No. 1 East Region squad (29-7), with a thrilling 21-25, 25-21, 24-26, 25-23, 15-9 victory in the semifinal round Wednesday, Oct. 20, to earn its runner-up finish.

Verbally committing to play Division I volleyball at Southern Illinois, Anabelle Sulish, standout senior outide hitter, "had an outstanding match against Notre Dame with a double-double: 32 kills and 25 digs," Hochevar said.

A four-year starter who has contributed to the three state runner-up finishes — also 2018 and 2019 — as a five-year varsity player, Sulish "has been a key player for Concord," the coach added.

Lady Lions freshman Lexi Schollaert had a double- double with 16 assists and 13 digs, along with three aces versus NDHS.

Sophomore Anna Birling contributed 22 digs and four assist, while sophomore Lily Richards had 33 assists and four kills.

Senior Sydney Petersen also had 22 digs, while junior Mady Sulish connected 12 kills. Fellow junior Katie Cooper added 10 kills. "And (it was) the team's highest hitting percentage with .370 and five digs," Hochevar said.

Juliana Kuhn had five blocks and assists with two aces. Senior Anna Komistek added three solo blocks and two block assists.

"We seemed to pick up speed as our sets tallied," Hochevar said.

"We had several girls that played well for us throughout the final (four)."

Battle Ground Academy beat CCS in straight sets in the championship match Thursday, Oct. 21.

Other 5-year players

"Other current Concord team members from the 2018, 2019 and 2021 state championship (match) teams" are Komistek, Kuhn, Petersen and Mady Sulish," the CCS head coach said.

In her nine seasons as CCS head coach, Hochevar's teams have reached the state final four six times.

"I want to thank our school, students, parents and community who came out in full force to support us," she said.