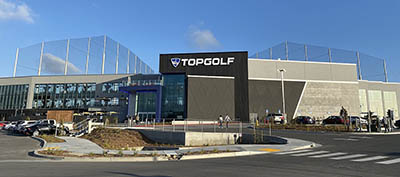 TopGolf officials, still aiming for a summer 2022 grand opening along Outlet Drive, are working on an amendment to current Farragut Zoning ordinances regarding signage.

Todd Waldo of TopGolf attended the Thursday, Oct. 21, Farragut Municipal Planning Commission meeting and discussed the changes the company is requesting. Current zoning only allows a protrusion of 1 foot or less, but the company "would like to have the signage match the scale of the building," Waldo said.

As described, TopGolf wants to install a canopy-mounted sign along the main entrance of the building.

"This configuration was shown on the original artist/architectural renderings of the building submitted for site plan approval; however, it was not clearly understood that it was a canopy mounted sign at that time, and such issues are not typically considered in detail during the site plan review process," Town Community Development director Mark Shipley stated in an FMPC report.

"The Town's current Sign Ordinance provides for wall signs and defines such signs as 'a sign attached parallel to and projecting not more than 12 inches from the wall of a building and does not project in part or in whole above the top edge of a building wall.' The proposed TopGolf sign does not meet this definition and the ordinance does not provide for canopy signs.

"The Outlet Drive Regional Entertainment and Employment (OD-RE/E) Zoning District (created by Town leaders two years ago) does include several provisions that modify signage allowances for large regional recreation and entertainment facilities; however, canopy signs are not specifically addressed."

Commissioners discussed the plans and seemed favorable to the requested change, which is tentatively scheduled to be voted on at the Thursday, Nov. 18 ,FMPC regular meeting.

Also discussed was a pylon-style sign, planned to be constructed fronting Interstate 40/75. Waldo noted it was a provision of TopGolf's agreement with the Town that a billboard formerly located on the property would be removed then replaced with the planned 50-foot tall sign, containing three tenant signs, with TopGolf being the only named entity thus far.

"There are a couple of others interested, but they haven't submitted anything," Shipley said. "And it could take two or three years for that property to be built out, but in the meantime, (TopGolf]) would like to move forward."

Prior to the meeting, Waldo said, "The building is coming along, and we are trying to get it paved and curb and gutter installed before winter.

"Very soon, you will be able to start visually seeing progress, which adds to the excitement," he added. "When people start seeing the building physically, out of the ground, it creates a lot of good support in the community."

Waldo said COVID had "slowed us down just a little bit" and "there have been some delays, so we are hopefully getting back on track," noting challenges nationwide receiving materials in a timely manner.