Community replaces fall display destroyed by vandals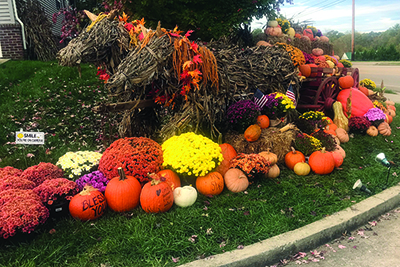 The Hardin Valley community came together without hesitation last week when a beloved annual fall display was destroyed.

Chris Ellison and his wife, Pamela, have been festively decorating their yard — also the entrance to their Elm Grove subdivision — for the last 16 years with pumpkins, mums and, most recently, two full-sized handmade wire horses stuffed with cornstalks and "pulling " a wagon. While pumpkins have disappeared here and there down through the years, unknown thieves and vandals wrecked and stole from the display under cover of darkness Monday, Oct. 25.

Both Pamela and Chris immediately shared their outrage at the incident on social media.

"Our community display was just vandalized and destroyed by at least three teenagers," Chris posted that same night. "A male and female and an unknown driver of a Silver 4-door sedan thought to be a KIA. Over 25 pumpkins stolen or smashed; mums broken and thrown under the wagon.

"Yes, we expect to have a pumpkin stolen, but over 25?" he added, remarking later his first inclination was not to rebuild.

"I was just ready to get rid of the whole thing," said the life-long Hardin Valley resident, who grew up on a farm just across the street from his current family home, where he and his wife still keep a 2-acre garden and grow most of items they and their daughter, Ana, lovingly and painstakingly share with the community each fall.

While members of the community were equally outraged at the incident, they also immediately offered to replace the stolen items and help rebuild it.

"People offered us money, begging us to keep it," said Chris, who noted last year, the display remained through the Christmas holidays, as the family decorated it with wreaths, greenery and fake snow.

"Facebook just took over," he added, noting Penny Wilkinson led the charge.

Also on Facebook, Karen Myer, Joyce Humphrey and Heather Murphy were among the first residents to offer their own pumpkin contributions.

By early the next day, donations were being dropped off, many of them signed with family and individual names or words of encouragement.

"One read 'Be Kind,' and another, 'Thanks for what you do," Chris said.

Elise Standifer brought a truckload of donated pumpkins from the University of Tennessee Gardens in Crossville. Elder's Ace Hardware donated about 15 mums, and other Hardin Valley businesses, including Hot Worx and Morning Pointe Senior Living, also made donations.

"Within 24 hours, the whole thing was just blown out," he said. "The community came together."

Donations continued through out the week.

Chris noted a friend, Steve Ritter, remarked, "'We have taken an act of pure meanness and pulled our rather large neighborhood into a tight knit community. The support and love has gone beyond words.'

"'We are usually looking for ways to give back to our community, but this time the community gave back to us, and we can't thank everyone enough for what they have done," Chris added.