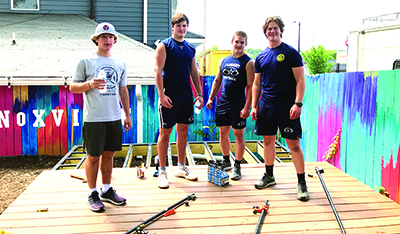 Farragut High School senior Micah Johnson was searching for an Eagle Scout project when family friend — and fellow Eagle Scout — Rick Kuhlman mentioned an East Knoxville coffee shop working to help women in dire need.

"He talked about Will Boggs (also an Eagle Scout), who owns Likewise coffee shop," said Johnson, a member of Hardin Valley Boy Scout Troop 246 until he aged out earlier this year.

After speaking with Boggs directly and learning the coffee shop's proceeds help fund "Raising a Voice" — an organization Will and his wife, Katie, founded seven years ago that helps women and children who have been rescued from sex trafficking — Johnson realized he could fill a need expressed by the couple from an outdoor deck doubling as a stage.

"I thought it would make a great Eagle Scout project, and really help them, too," said Johnson, the son of Brad and Rebecca Johnson and the youngest of three brothers, all of whom have attained Eagle Scout status through Boy Scouts of America.

Brad Johnson helped his son with construction, as did one of Micah's brothers, Joel, and several fellow FHS football teammates, but Micah planned the entire project, which he said "took about six months to complete."

According to a feature story written at Oak Ridge National Laboratories, where Brad Johnson works, "The stage will present new opportunities for the East Tennessee coffeehouse and help further the work of 'Raising A Voice,' which operates a day center currently used by roughly 40 women and helps them procure identification, job skills and employment, basic needs like food and housing, transportation and, whenneeded, heathcare and addiction recovery services."

The couple founded the organization while living overseas, and it has centers on both the African and South American continents.

The Johnson family moved to the Farragut area from Washington state "a little over two years ago," Rebecca Johnson said. "Troop 246 was very welcoming. ...

"COVID came along and then made it even more difficult," she added. "We're so proud of his hard work and perseverance. Once he started the planning and actual building, he had to say 'no' to so many other activities in order to bring the project across the finish line, and complete it by the time he turned 18 in July."

Micah also is involved with youth group at Cedar Springs Presbyterian Church in West Knox County.