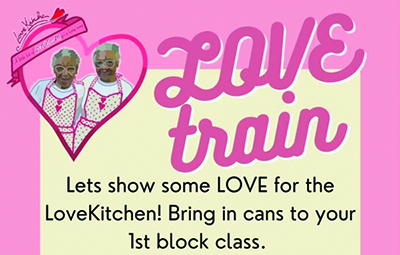 A first-ever Farragut High School's Student Government Association "Screen on the Green" event successfully kicked off the organization's annual Love Kitchen Canned Food Drive by raising more than $2,200 Saturday, Oct. 23.

"We had such a successful night," said Cathlene Horwege, SGA member and vice president of the Class of 2023, which also helped with the fundraiser. "A whopping 397 tickets were sold. We were in disbelief and are so thankful for everyone that came. We will be donating that money to the Love Kitchen, a very important cause to us.

"'Screen on the Green' was such a hit that we are discussing making it a tradition, she added."

That donation will be added to what is raised during the Canned Food Drive, which began Monday, Nov. 1, and will continue through Friday, Nov. 12.

"This is the second year that all Farragut schools will be participating in the drive, hoping to beat last year's can total of 37,000 cans," SGA president Hannah Brennen said. "Both physical and monetary donations will be accepted, and the homeroom class at each school that raises the most cans per student will receive a free Chick-fil-A breakfast.

"Anyone wishing to make physical donations can drop them off to the front office at Farragut High School," she added.

All online donations can be made through the following link: https://givebutter.com/2021lovekitchen.

"The Love Kitchen (located in East Knoxville) provides meals and food packages to homebound, homeless and unemployed persons," Brennen said. "Works with local agencies to provide meals, used clothing and services in the hopes of encouraging others to serve alongside them.

"It has no paid staff, with all of the donations going to those who need it most. After this past year, it is important now more than ever to show up for our community. Together we can make a difference."

All proceeds go directly to the Love Kitchen.