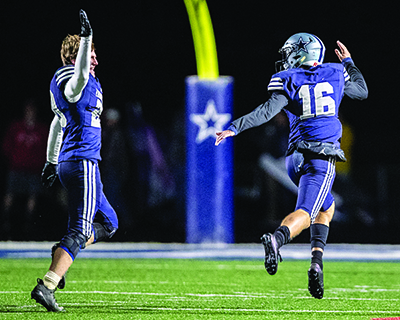 Reese Keeney's 44-yard field goal to beat Bearden at the buzzer was a thing of beauty — but it didn't count because of a BHS timeout.

His 29-yard field goal moments later, moved closer thanks to a rarely called ball-touching 15-yard penalty against the Bulldogs, also was a thing of beauty in its own way.

This kick, though an end-over-end knuckleball that barely got over the crossbar, did count, which set off a wild celebration led by the junior kicker himself in a dramatic 17-14 Farragut victory Friday night in FHS's Eddie Courtney Stadium/Bill Clabo Field.

Doubling as Senior Night and PinkOut night, the Ads' victory also earned them a Class 6A playoff berth as a No. 4 seed (at Region 1-6A top seed Science Hill, with a 7 p.m. opening kickoff, Friday, Nov. 5) at 4-6 overall, 2-3 in Region 2-6A.

Bearden was denied that No. 4 seed in the setback, ending its season 4-6, 2-3.

"Nothing compares to that right there, against a rival school," Keeney said. "It wasn't my best ball, but it went through."

After his well-hit 44-yarder that didn't count, "I just tried to stay confident, stay positive in the moment," the junior said.

While the Bulldogs tried to ice Keeney by using all three of their timeouts, Eddie Courtney, Ads skipper, recalled Keeney's reaction.

"Every time they called time-out, he said, 'I've got it, I've got it," the coach said.

"Barrett Smith got the hold down and Roger (McNeer) got the good snap," he added.

"The scoreboard says it all," said Dawson Moore, FHS senior quarterback who went 16-of-21 passing for 125 yards and no interceptions. "... To finally get one that's a close game in our favor, it feels great."

Dawson led the Admirals on a 38-yard march into BHS territory to set up Keeney's moment, which came after Bearden tied the game 14-14 with 5:33 left on Nicco Young's 36-yard run around the left side, breaking three tackles.

"Nicco's been consistent for us all year," BHS head coach Morgan Shinlever said.

From the start

The second play of Bearden's first possession resulted in a fumble Admiral Jerome Brekken recovered at the Dawg 43.

Three plays later, Moore hit receiver Trace Corum in stride down the right sideline for a 28-yard touchdown less than five minutes into the game. Keeney's kick made it 7-0.

The Bulldogs would answer late in the second quarter, going 80 yards. It ended with Young's 3-yard TD run and kicker Ethan Ford's extra point to tie the game 7-7.

About his freshman quarterback, "Drew Parrott was very composed," Shinlever said, as Parrott hooked up with Griffen Oros, Sam Tummins, Timyathus Spikes and Ford on several key pass completions (14-of-19 for 146 yards).

After a 40-yard Ads run to the BHS 5 ended in a fumble recovered by Bearden early in the third quarter, Farragut got the ball back and went 61 yards for a TD. On 4th-and-goal at the BHS 2, running back Schumman Xie scored with 3:19 left.