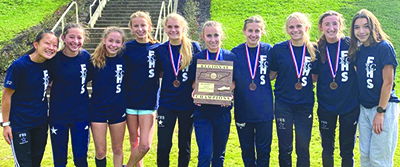 KNOXVILLE — Three finishes in the top seven, led by runner-up Grace Lathrop, propelled the Farragut Lady Admirals cross country team to a Region 2-AAA championship at Victor Ashe Park Tuesday, Oct. 26.

The Lady Ads edged runner-up Hardin Valley Academy by nine points, 38 versus 47. The Lady Hawks were led by individual champion Maddie Archdale, a sophomore (19:09).

"I am very pleased with how they ran," FHS head coach Chelsea Osborne said. "Melanie Hayman (sophomore, 11th place) really stepped up for our team.

"We went into the race with a few injuries, so having Melanie have the race she did was a big help for the team.

"Grace Lathrop also had a big day," she added about the senior (19:28). "This was her first time on that course and she really ran a strong race."

About his Lady Hawks, HVA head coach Bryan Brown said, "Our girls ran really well. I'm very happy for them."

Farragut seniors finishing in the top 10 were Camryn Johnson (fifth, 19:54) and Kendall Johnson (seventh, 20:10).

Other top finishers for Hardin Valley were freshman Stuart Ann Leath (eighth, 20:17) and senior Avery Holdswroth (ninth, 20:17).

Millie Lovett, Bearden freshman, was 10th (20:25), helping her team finish fourth (106).