at state: Pom, Jazz No. 1 for FHS dance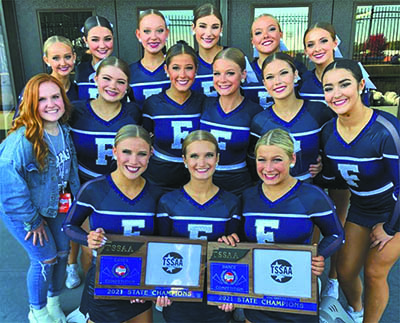 For the third straight year of TSSAA Cheer & Dance competitions, Farragut High School's dance team has earned two state championship honors, Small Varsity Jazz and Small Varsity Pom.

The most recent, by the 2021-22 FHS team, came in Middle Tennessee State University's Murphy Center in Murfreesboro Saturday, Nov. 6. "I'm very proud of the girls ... winning the double title was just affirming all their hard work," head coach Presley Packer said. Seniors holding the two state title trophies are, from left, Jaelyn Spears, Ella Kate Puterbaugh (captain) and Kelsee Hartman. Middle row, from left, are coach Packer, Whitney Gohn, Molly Stokes, Maddy Burns, Madelyn Snow and Gigi Noble. Back row, from left, are Makenna McDonald, Carson Kraemer, Addison Fink, Saige Derr, Sophia Von Wedel and Mary Elizabeth Noble.