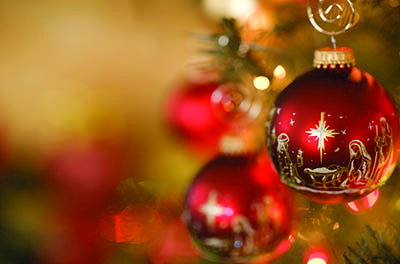 With all the spookiness of Halloween put away, it's beginning to look a lot like Christmas in Farragut, as Town employees have been busy putting up the Town's hallmark lighted trees.

Their handiwork is visible at Town Hall, in Mayor Ralph McGill Park and in Founder's Park at Campbell Station, where annual Light the Park officially kicks off the season at 5 p.m., Monday, Nov. 22.

According to Town Public Relations and Marketing coordinator Wendy Smith, 25,000 lights will be added this year alone, primarily on what will be new this year, a 50-foot tree at Mayor Ralph McGill Plaza at the corner of Campbell Station Road and Kingston Pike.

Additional displays at the Plaza will include a lighted archway and several new lighted candy canes, Smith added, marking a grand total of 100,000 lights adorning Farragut along Campbell Station Road for the holidays.

Countdown to Light the Park

Music begins for Countdown to Light the Park at 5 p.m. for the kick-off, which is co-sponsored by Shop Farragut/Farragut Business Alliance. Families are encouraged to arrive early if they hope to see Town Mayor Ron Williams and Santa Claus "flip the switch" at 6:30 p.m., officially lighting not only Founder's Park, but all the Town's holiday lights, from the Interstate 40 commuter lot along Campbell Station Road down to Mayor Ralph McGill Plaza.

Parking at Founders Park is extremely limited, but parking is offered at Farragut Community Center, 239 Jamestowne Blvd., "which is an easy walk to the park," said Parks & Rec director Sue Stuhl in a press release.

Light the Park

Light the Park will run from dusk to 10 p.m. through Sunday, Jan. 2. Activities will include carolers, vendors and/or food trucks "on most nights," Smith said. A schedule of events can be viewed at farragutparksandrec.org/lightthepark.

"In addition to the new lights, we are trying to offer something special at Founders Park every night (except Thanksgiving) through Dec. 23," she continued. "We are currently recruiting vendors to give things away each evening, plus we'll have carolers and food trucks on most nights.

"As people sign up, we put them on a calendar at farragutparksandrec.org/lightthepark."

Those wishing to sign up to sing, sell or pass out goodies may also contact Special Event and Program coordinator Brittany Spencer at 865-218-3376 or at bspencer@townoffarragut.org.

Restrooms at Founders Park and Mayor Ralph McGill Plaza will stay open until 10 p.m. nightly, except for Christmas Day (closed all day).

Letters to Santa

The fun tradition of Letters to Santa continues this year, and children may drop their letters off in Founder's Park beginning Monday, Nov. 22.

The last day to send them is Dec. 20, and letter-writers are urged to include a return address so Santa can write back.

Celebrate the Season

Cancelled last year due to COVID-19, Celebrate the Season is described by Town staff as "a great way to get in the holiday spirit," and takes place from 4:30 to 7 p.m., Thursday, Dec. 2, in Farragut Community Center.

Children can have photos taken with Santa and participate in cookie decorating and face painting among activities.

A holiday movie also is part of this free evening of fun.

Holiday painting classes

Take part in several holiday-inspired, step-by-step painting classes offered at Farragut Community Center.

Classes include a "Thankful' painting class Saturday, Nov. 20, picturing a white pumpkin with fall background, a "Snow Much Fun" snowman painting Saturday, Dec. 4, and a "Red Truck Christmas Tree" Saturday, Dec. 18, depicting an antique red truck carrying a fir tree.

All classes cost $35 and all materials are provided by the instructor, including the 16-inch-by-20-inch canvas.

Register for classes at townoffarragut.org/register, in person at Farragut Community Center (239 Jamestowne Blvd.) or by calling 865-218-3376.

'Twas the Night

with No Parents

'Twas the Night with No Parents, a new event offered at Farragut Community Center from 6 to 9 p.m., Friday, Dec. 17, will provide pizza, games, crafts and a movie for kindergarten through fifth grade students.

Cost is $10 per child. Pre-registration is required at townoffarragut.org/register.

Organizers are promoting the event as an opportunity for parents to do some last-minute shopping, wrapping or relaxing before Christmas week.

New Year's at Noon

New Year's at Noon is an early commemoration of the end of the old year, and commencement of a new one will take place in Farragut Community Center from 11 a.m. to 12:30 p.m. Friday, Dec. 31.

The new event is designed for the whole family, and offers "snacks, crafts, refreshments, games and a noon New Year's countdown at a perfect time for everyone to celebrate," according to a press release.

All participants need to be individually registered to ensure all materials can be prepared. Cost is $2 per child ages 16 and younger, and free of charge for adults.