Mobile business offers unforgettable experience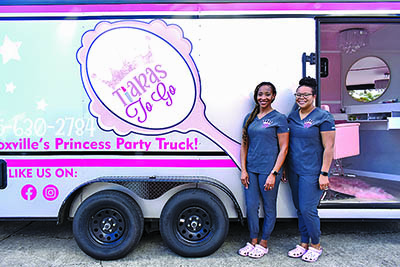 Even though it conjures regal images of queens and princesses, Tiara Evans has always hated her name.

Not so much these days, however, as she and her cousin, Jerresha Johnson, recently began a mobile business, Tiaras to Go, playing on the name she hasn't always thought of so fondly.

Targeting young ladies ages 4 to 10, the business offers an unforgettable afternoon of pampering and princessing anywhere the women can safely set up their shiny silver trailer.

Inside is a veritable wonderland for little girls wanting their very own special treatments, from fairy lights adorning pink gauzy wall coverings, an interior chandelier and two full-sized hairstyling chairs complete with gold-guilded mirrors, to a luxurious oversized sumptuous pink couch and a mounted big screen television where movies, music or karaoke can be cued up on command.

Depending on the package, young ladies may enjoy spa treatments such as masking and manicures, temporary hair coloring and light makeup — but every princess enjoys popcorn, a Shirley Temple drink, a tiara and digital invitations.

Evans, who lives in Choto with her husband, two sons and a daughter, had the idea for a mobile birthday party even before COVID-19.

"I'm so busy with my three kids, I thought, 'I wish someone would come to me and have my daughter's party at my house.'

"Boys have gaming trucks, but someone should do something for little girls."

During COVID, she put the thought on the back burner, then her daughter's birthday "came around again, and I thought, 'Darn it.' Her plans then began in earnest.

Evans immediately enlisted Johnson's partnership.

"I enjoy parties, I enjoy kids and I love Disney," Johnson said. "When she came up with the idea, I just knew the princess theme would be perfect."

"She is a great partner," Evans said. "When I think of something, I run it by her, and she is always honest with me."

Evans didn't automatically intend for her own seemingly obvious name to be part of the business title, but when she polled friends and family members about possible names, "Tiara" was oft-mentioned and suggested.

The venture has been a true family affair, as both women have had the full support of their husbands, Jason Evans and Gerald Johnson, who did most of the construction.

Evans' daughter, Addalyn, helped with many of the decorating ideas, while her sons, Jeremiah and Zerryn, offered assistance, too.

"Addalyn never wants to get out of the trailer when we park it at home," Evans said with a laugh.

Evans and Johnson, who have nicknamed themselves "Fairy Glam-Mothers," work-ed for several months perfecting their make-up techniques and party planning options, and are still working on various treatments for tweens and older girls.

Tiaras to Go currently offers four party packages: Princess, Duchess, Queen and Empress, and parties may last from 90 minutes to two hours. Package pricing begins at $240.

The women, already working other jobs — Evans in mobile crisis and Johnson in provider relations for BlueCross/BlueShield of Tennessee — are very passionate about their sideline business; and in addition to advertising through Facebook, Twitter and Instagram are planning to branch out by possibly adding more employees in the future, and target the grown-ups.

"If adults want a girls night out, to sing karaoke or to sip cocktails, we want to offer that," Evans said. "We have just been getting the concept out there first, to test the waters."

They recently were at the Women Today Expo and have set up at Angela Floyd's Music and Dance studio and at the Davis Family YMCA, in addition to furnishing private parties. "It just makes my heart sing to do what we are doing."

For more information, call 865-630-2784, visit tiarastogo.org or visit Tiaras to Go on Instagram and Facebook.