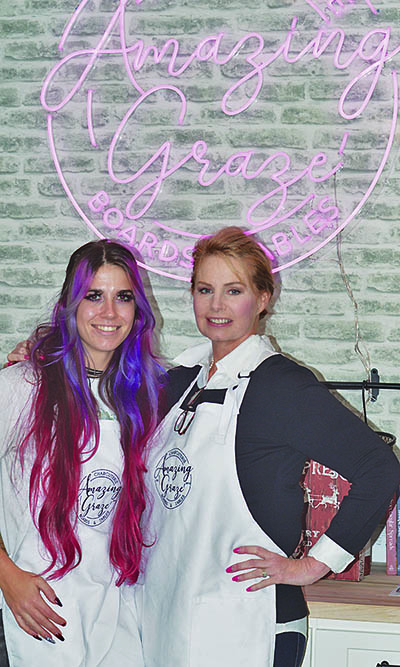 Susan Ehler, owner of Amazing Graze, a charcuterie business at 9236 Kingston Pike in Cedar Springs shopping center, welcomed the community to the grand opening of her shop on Saturday, Nov. 6.

"We've just been in this store for about a month now," Ehler said.

Visitors had a chance to try samples from a charcuterie cone, as well as mini liquor cakes and chocolate-covered strawberries, add their name to a drawing and quench their thirst with spiced cider or peppermint hot chocolate from a nearby mobile bar, The Tipsy Daisy, a sideline business umbrellaed under Amazing Graze.

Ehler has joined her husband, Matt Ehler, and step-daughter, Halley Zupka, the store's manager and The Tipsy Daisy bartender, in the ventures.

At Amazing Graze, customers can order or purchase on site an array of cured meats, cheeses and accessory items such as fruits, olives and nuts. They also deliver the ordered items.

"We offer little snack-size boxes, which are super popular for parties, and we sell a lot to doctor's offices and events like that," Ehler said. "We have them for two persons all the way up to about 60 people.

"For parties bigger than that, we do on-site built grazing tables," she said. "We've done up to 200 guests."

Some cured meats include salami, pepperoni, prosciutto, soppressata and coppa, among others.

"We have all the cheeses," she said. "The most popular are the brie, blueberry vanilla goat cheese … bella vitino, cheddar, manchego, gouda (and) specialty cheeses," Ehler said.

"There's always going to be fresh, seasonal fruits and vegetables (in the boxes) and nuts," she added

"We do a house-made feta dip, dried fruits, like apricots, olives, cornichons, crackers, jams, honeys and chocolate.

"We try to get local honeycomb, and we work with local people to offer locally made jams, which we get from Jammin' Jams (in Maryville),, Lulu's Liquor Cakes and Towns Toffee," Ehler said.

She gets most of her orders online at amazinggrazetncom, but "we are starting to offer grab-and-go (boxes) every day, which are super popular for lunch," she said.

"We have a lunch-sized (box), and we'll be stocking our cooler with boxes for two people and four people," Ehler added.

Along with the charcuterie shop, customers can rent The Tipsy Daisy bar, which operates out of a converted horse trailer, for events.

They will supply most of the ingredients — minus the alcohol — such as fruit and other additives and equipment.

Amazing Graze is open from 11 a.m. to 6 p.m., Tuesday through Friday, and from 10 a.m. to 3 p.m., Saturday.

It is closed Sunday and Monday.

For more information, or to place an order, call 865-296-9604, visit amazinggrazetn.com or its Facebook page.

More background

Amazing Graze originally opened at the beginning of the COVID-19 pandemic, in March 2020, which ultimately changed her business plan, Ehler said.

"My husband and I were just going to do a little side business of all-inclusive micro weddings, and we were going to use the renovated trailer to transport everything, " she added. "The grazing table and charcuterie were going to just be part of our all-inclusive package."

However, when COVID shut down the economy, she recalled, "people were buying everything pick up and to-go so I basically told him, 'What if I just see if anyone would like to buy a little charcuterie box.'

"I made a post online, and it just sort of blew up from there," Ehler added.

"The first weekend we sold three (boxes). By Mother's Day, I think we sold 60, and by July the business had gotten so big that I had to quit my full-time job (doing accounts receivable for Concrete Cutting Systems), which I had for 25 years, to do this full time.

"Since we decided the mobile bar and micro-wedding thing wasn't going to work — we still had that cute little trailer — we decided we should just make an addition to the grazing board business and make a mobile bar, because they pare well together for weddings and (other events)," she said.

"Everyone looks for a caterer and a bartender," Zupka said.