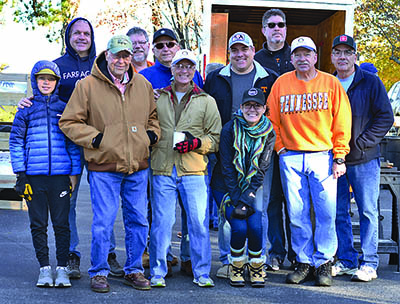 About 30 Rotary Club of Farragut members and volunteers and 10 Hardin Valley Academy Interact members braved cold temperatures at Fox Den Country Club Saturday morning, Nov. 6, to build beds for Sleep In Heavenly Peace's Knoxville chapter, which provides beds for Knox County children in need.

They were joined by SIHP volunteers to build headboards, footboards and rails for 24 beds for children who otherwise would be sleeping on mats and floors. RCF's team cut and sanded boards, put together the end boards then stained all the parts, which will be stored until they are ready for assembly and delivery.

"We, as a club, love doing anything that is one, hands on, but two, really goes to helping people in the community," said Scott Bertini, RCF's Service Projects chairman. "This is something that's very direct and helps children.

"There are a lot of kids who don't have beds in this community," he added. "This is just our way of doing a small part to help some of those kids out."

"They make all this possible," SIHP chapter president Bill Thompson said about RCF's efforts on Saturday, as well as other groups that build bed parts. "It's the life-blood of our organization.

"Without them, we probably wouldn't be able to do this."

SIHP is a national non-profit organization of volunteers who build and assemble bunk beds for children between the ages of 3 and 17.

"These beds we're going to build today are going to stay in Knox County," Thompson said. "We work a lot with (Department of Children Services) and (Court Appointed Special Advocates).

"I've even done some work with Knox County detectives in situations they've run across," he added.

"Basically (the children) just need a bed. If they don't have a bed of their own, we want to provide it for them."

Having seen children's poverty up-close, "You would be surprised (the homes in which those children come)," Thompson said. "We've been in all types of situations, where families have run into some tough times. They may be getting back together, as a family, due to some type of addiction or something like that.

"We've had grandparents who get the grandkids, trying to just keep the family together … just about anything like that is what we work with," he added.

In opening the project's activities, Thompson said, "Hopefully most of us slept in a nice warm bed last night, but you're going to make it possible for kids that don't have any thing — I mean, anything — to have a nice, warm, comfortable bed.

"We probably have 40-something waiting (for beds) right now," he added. "We do have some beds for them already. Your portion's going to help us get over the top of that."

During RCF's weekly meeting Nov. 3, the Rev. David Bluford, president, reminded members Thompson spoke to the club about SIHP.

"We followed up with that in order to work with them," Bluford said.

"Scott Bertini, our chair of Service Projects, did a great job of pulling this project together and making it happen," RCF public relations chairman Tom King, past president, stated in his Nov. 7 newsletter.

"This is awesome. This is great," RCF member Alex Barnwell said. "I love helping these folks, and we've got good people like this (referring to an SIHP volunteer) helping us."

"I think it's a lot of fun," RCF member John Hoffman said. "It's a good project that's going to help people and that's what we're all about."

"It's absolutely amazing" HVA Interact member Quinne Johnson, a sophomore, said. "The ability to help people who have nothing and to just give them something that they can live with and have a better life is just, honestly, amazing."

"It's really a good opportunity to help, said BreeAnna Leach, an HVA sophomore. "I feel like I'm a part of helping kids get beds. I'm so happy to be here."

While SIHP members arrived at 8:30 a.m. to set up machinery and tools, Rotarians arrived at 9:30 a.m. and built about 30 beds before they finished around lunchtime.

Before the work began, Bluford presented Thompson with a $4,500 from the club to build more beds.