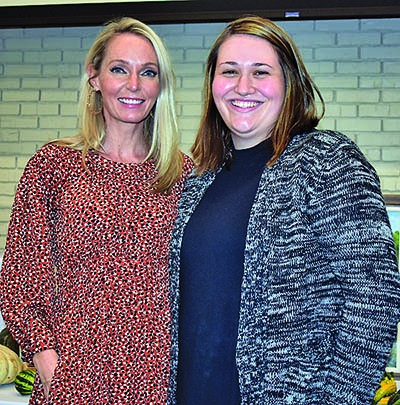 An internship connection brought a new executive director to the Concord Adult Day Enrichment Services program at Concord United Methodist Church.

Sarah Pass, who interned twice with the program, recently assumed the role from former executive director Celia Gruzalski, who left to serve as executive director of Our Place in Tellico Village.

"My goal as the new executive director is to continue serving the participants, the families and the community at the same high-quality caliber," Pass said. "I am filled with enthusiasm at the opportunity to serve here at CADES again. This program, the participants and the families are very special to me."

For Gruzalski, who has worked with the program nearly a decade and was only its second executive director, the move is bittersweet.

"It has been an honor to work with the families at CADES as they face their journey through dementia," she said. "There is nothing more rewarding than seeing our participants happy, safe and loved, and being able to offer support and resources to their caregivers, who are true heroes. 

"Leaving CADES is made easier in knowing how wonderful and capable Sarah Pass is, and I am so excited to be building a new program, Our Place in Tellico Village, and expand the reach of support to families in East Tennessee."

Pass' two CADES internships were during her coursework at the University of Tennessee while she was pursuing her master's degree in social work, which she obtained earlier this year.

Pass has long felt the pull toward working with older adults. She received her Certified Nursing Assistant certification while in high school, and while studying for her bachelor's degree in psychology at Maryville College, began working for Shannondale of Maryville.

"There, I developed a passion for working with and serving the older adult population," she said. "Then, in the first year of my master's program, I choose to intern at CADES. I loved the program and its mission and decided to continue my internship there during my second year.

"I longed to stay with CADES after my internship concluded; however, I accepted a social work/ admissions position at NHC Farragut."

All the while, Pass said, her "heart continued to be drawn back to CADES," landing her there permanently with Gruzalski's impending departure.

"Celia has been a great mentor and support over the years, and I cannot thank her enough," she added.

Pass and her husband, Michael, live in Maryville with their two dogs, Benji and Layla, "that we love dearly," she said, and are "overjoyed" to be expecting thier first child, a boy, in March.